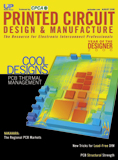 FEATURES
COVER STORY
Beating the Heat
Power dissipation of electronics devices has been rising steadily to the point that thermal management must be considered as an integral part of the design process for most products. Current design methods generate PCB component layout often long before cooling issues are addressed. Component layout has a major effect on junction temperature and failure rate. So why aren't thermal issues addressed until the later stages of the design process?
by Alexandra Francois-Saint-Cyr
ROHS PREPARATIONS
Lead-Free DFM Demands New Tricks
Designers must understand that packaging and footprints can vary between otherwise similar versions of lead-free and leaded components. An overview on what you need to know for each step of the process from design to fab to assembly.
by Zulki Khan
WORLD PCB MARKETS
The PCB Melting Pot
In the second in a series on the world PCB market, we see that a lukewarm start to 2005 led to a brisk second half. A look at the output in each region, with comments on some of the key players, and a forecast for the next three years.
by Dr. Hayao Nakahara
PCB STRUCTURAL STRENGTH
An Analytical Characterization of PCB Delamination and Comparison of Adhesion Tests
While peel strength test is the accepted method for measuring adhesion, the test is prone to delamination failures during reflow and wave soldering. The newer T260 method also has its warts. A better technique is the double lap joint.
by J. Lee Parker, Ph. D.
POINT OF VIEW
Our Line
Circuit boards are my life.
Kathy Nargi-Toth
ROI
Don't avoid the "chatters;" embrace them.
Peter Bigelow
Interconnect Strategies
Bus timing at higher frequencies and speeds.
Dr. Abe Riazi
The Flex Market
Are halogen-free materials finally ready for production?
Dominique Numakura
No Myths Allowed
Analysis is mandatory in power distribution network design.
Dr. Eric Bogatin
DEPARTMENTS
Ad Index
Off The Shelf