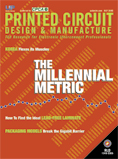 FEATURES
MARKETSAsian Market: Korea
The Korean PCB industry showed fabulous growth in 2004. What's next for the peninsula?
by Dr. Hayao Nakahara
POINT OF VIEW
Our Line
Online classes fit technologists' schedules.
Andy Shaughnessy
Power Selling
With apologies to Jeff Foxworthy, here are 35 sure signs that there's deadwood on your sales staff.
Dan Beaulieu
ROI
It can't be plotted on a month-to-month graph, but your firm's integrity should be in good supply.
Peter Bigelow
The Flex Market
Flex is still a positive - but volatile - market.
Dominique Numakura
DEPARTMENTS