The debut of a M2M interface at IPC's annual trade show spurred plenty of chatter, and for once, everyone was sounding the same notes.
If you want agreement, it always helps to speak the same language.
So it went at IPC Apex Expo in March, where the introduction of a shop floor communications specification was the talk of the annual trade show, overshadowing – and not by a little – the relative paucity of new equipment and materials making their worldwide debuts.
Mentor's OML, which made its official launch at the Las Vegas event, is an attempt – and generally considered a good one – at developing a bi-directional machine language for Industry 4.0. Several OEMs agreed OML has technical merit. That was tempered, however, by widespread sentiment that ownership of whatever specification is settled on should belong in the hands of a neutral third party, namely IPC.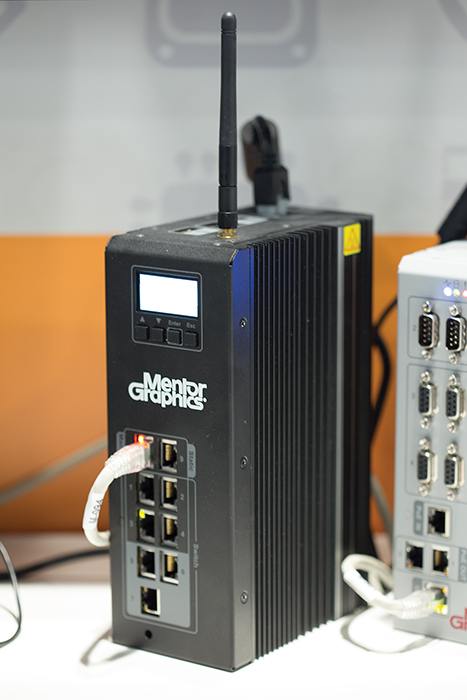 BLACK BOX The hardware for Mentor's OML connects disparate assembly lines.
The rationale for IPC to be caretaker, as explained by Carsten Salewski, president and CEO of Viscom: "We need a language separated from content."
Salewski, who is vice chairman of the SMEMA Council Steering Committee, a group of assembly OEMs, added, "The language should be an IPC standard that every machine configures to. How much data, and whether it is bidirectional, is up to the machine vendors and what customers demand."
Speaking on behalf of Mentor, Michael Ford, who conceived the project, said the software vendor would be more than willing to offer OML to the industry. "The idea has always been to establish OML as a standard. IPC could take it and run with it if they want," he said.
What makes the development so interesting is that adoption would seemingly contradict OEM efforts to sell a single-line solution to customers. But OEMs at Apex as diverse as KIC, Europlacer and Yamaha were unanimous in their desire for an open spec. As Universal Instruments vice president of marketing Glenn Farris said, "Without it, there's a bunch of non-standard standards."
ASM is one such company with a proprietary system, called Siplace Operations Information Broker Interface. Third parties can connect to the ASM system, thus avoiding the need to change their programming every time ASM upgrades its software or the user adds machine options: a new placement head, for example. Yet Mark Ogden, Siplace marketing manager Americas, noting the customer push for a broadly accepted standard, said, "I will support anything on this."
What all the two dozen parties that have signed on to support the effort agree to is the industry cannot withstand a multiyear development process for an Industry 4.0 shop floor spec.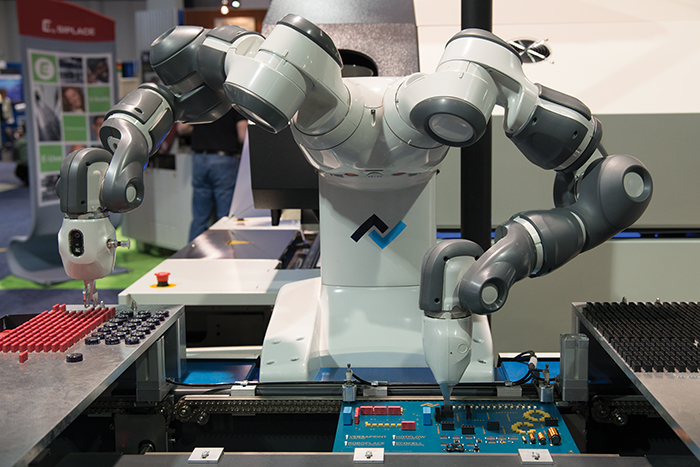 Killer robot The ERSA Roboplace won the Circuits Assembly NPI Award for Component Placement – Multifunction.
"Speed of execution is everything," noted Jason Spera, CEO of Aegis Industrial Software and chair of the Shop Floor Communication Standard Subcommittee (the name of which is subject to change). He is working with Marc Peo of Heller and Viscom's Salewski on the group's charter.
Spera was passionate about the prospects for success. "I'm excited we can build something that will actually work: a timely industry standard protocol to support Industry 4.0."
While the pending shop floor specification monopolized the conversation, there were other developments worth noting.
First is the event itself. Back in Las Vegas after a one-year stint in San Diego, the show was held at the Las Vegas Convention Center, at the opposite end of town from Mandalay Bay, where it was in 2011 and 2013. Navigating the severe rectangular floor layout, with attendee traffic entering and exiting through a single common set of doors, proved frustrating to exhibitors and attendees alike. Traffic seemed no better than flat compared to previous years as well. (Official numbers were not available at publication time.) It didn't help that Shanghai also hosted a major electronics exhibition the same week. Indeed, most exhibitors already seemed to be looking ahead to 2017 and beyond, when the show returns to San Diego for a six-year run (at least). That said, there's been a fundamental shift in the way exhibitors approach Apex. A certain maturation has taken root, and savvy companies fill their appointment books in advance of the show. So even if the random traffic is unspectacular, the booths still see steady customer visits.
Second, when Apex immediately follows Productronica, as it did this year, the volume of new equipment and materials always takes a hit. Many products had been rolled out in Munich last November and were making their North American debuts. As such, our coverage will focus on products making their worldwide debut at Apex.
Taiyo America is working on new direct imaging ink and an inkjet solder mask that is green/black for rigid boards and clear for flex. A white version is under development for LED applications. "LED is taking off big time," especially in the US and Europe, said marketing specialist Josh Goldberg.
Orbotech, which rolled out two direct imagers at Productronica, continued the onslaught with Automated Optical Shaping (AOS), a laser-based tool for selectively completing missing copper patterns on panels. The technology, which also fills opens with copper, works in three stages: 1. pretreatment (copper fill); 2. post-treatment (metal printing); 3. copper shaping. The accompanying software shows a 3D image in color at all angles.
Aegis has a new logistics module for its FactoryLogix RC MOS, which fully integrates the previously acquired Diplan capabilities into the native Aegis environment. The tool works across incoming QC, production planning and stockroom management to determine, based on customer inputs and parameters, where parts need to be.
Indium's latest halogen-free, no-clean solder paste, 10.8HF, provides non-wet open performance on large, high I/O electronic packages, and has an oxidation barrier to reduce head-in-pillow (HiP) defects and improve graping performance.
Kester highlighted NP545 zero-halogen solder paste and Select-10 liquid flux, targeting high-reliability applications, including Telcordia/Bellcore.
Besides introducing Benoit Pouliquen as global head of its Electronics business, Henkel Adhesive Technologies upgraded its Technomelt line of hot melt encapsulants with a thermally conductive material that can transfer heat through the encapsulating layer. It has a thermal conductivity of more than 0.5 W/m-K, for applications such as LED drivers, power supplies, solar inverters, camera modules and automotive electronic power systems.
ECD showed a larger component dry box, SD48F, whose 48 cubic foot area accommodates feeders. The company, which CEO Todd Clifton purchased outright in October, also updated its convection reflow oven profiler, Oven Rider 2.5, with latch-protected sensors on the substrate, which in turn is made of a new material that better withstands flux.
Speedline has added an inverter to its Camelot Prodigy SD dispenser line, which has two large syringes attached to the rear of the machine to lower machine downtime.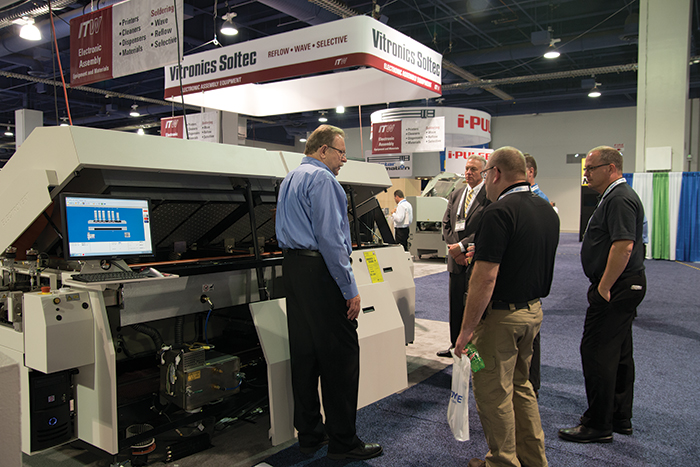 Heating up Engineers consider a Speedline Electrovert OmniMax reflow oven.
Yamaha's G8 four-gantry placement machine – an improved carryover from its Hitachi acquisition – now tops out at 150,000 cph, and improved alignment reportedly is now accurate to 25µm at speed.
Universal Instruments is stretching its wings, adding its first automated high-throughput assembly machine for direct die attach on flex circuits, Uflex. The line has 2G acceleration, 50µm accuracy and 8µm repeatability, and supports boards up to 630 x 500mm, components up to 38 x 127 x 50mm high, and performs a variety of processes, including pick-and-place, dispensing, screw driving, labeling, and test handling. Meanwhile, Flexbond hot bar bonder incorporates up to 18 bond heads that are selectively active based on RFID designation of placements. It uses pulse heat technology and has closed-loop temp control and programmable pressure settings.
Fancourt/Japan Unix's new DF3 Series desktop soldering robot is laser-based and has a 360⁰ rotary table, with angles too. It comes with USB and LAN ports for Internet connections.
Saki's BF-3Di-Z1 3D AOI accommodates boards up to 680 x 870mm and comes in a dual-lane version. A new positioning system shed the previous model's linear motors to speed throughput. The firm has adopted a reflective scan/golden board style programming methodology, and its offline programming has full editing capability.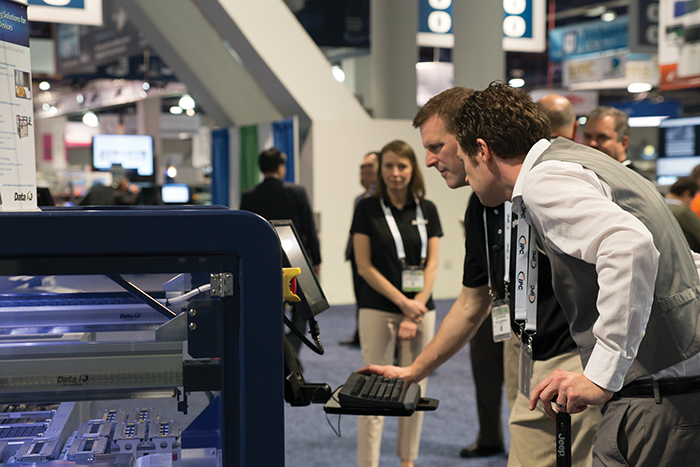 1 on 1 With the show floor generally quieter than in past years, attendees received plenty of individualized attention.
Nordson Dage showed its Matrix 3# for the first time, while Nordson YesTech FX-940 AOI 3D has a top-down viewing camera and four side viewing cameras for solder joint inspection and parts verification. The automatic programming tools are said to take fewer than 30 min.
Viscom's S3088 Ultra Gold AOI nearly doubled its throughput, to 65cm2, thanks to a larger field-of-view, backed by up to eight angled cameras and a topdown 121mp camera. Likewise, the S3088 Ultra Blue inline version is built on a reduced-cost chassis for a lower overall price tag.
CyberOptics showed its Cybergage 360 3D scanning system for metrology and SMT, said to have 25µm accuracy. The company says it could see significant revenue growth in 2016. (As an aside, the image quality on the previously released SQ3000 3D AOI must be seen to be believed.)
Having "taken board support as far as you can take it," Production Solutions is now pushing automation. The firm wants to move on to the bench for rework and repair.
SCS's Precisioncoat V is more agile than previous conformal coaters and sports a new feature: a spot cure device for UV curing.
BPM Microsystems' 9th Generation series – really a range of universal device programmers for first articles and manual and automated production – uses the same algorithms and sockets across the entire line. The series leverages existing libraries of devices, sockets and algorithms.
Certain technology developments that were mentioned in more than passing included die-attach on flex; routing QFNs and LEDs; and how to test liquid fluxes.
Robots were not emphasized as much as at Productronica, but more than a half-dozen companies, Asys, Rethink Robotics, Nachi, Fanuc and Parmi, among them, were utilizing robots in systems ranging from placement to soldering to repair. 3D printers were less notable as a presence, but several conversations suggested implementation is accelerating.
Creation Technologies, Firstronic, Electronic Systems Inc. and BestProto won the annual Circuits Assembly Service Excellence Awards for their respective EMS categories. And Kurtz Ersa became the first company to win four NPI Awards in a single year. (See the complete list of winners here and here.)
On to San Diego.
Mike Buetow is editor in chief and Chelsey Drysdale is senior editor of PCD&F/Circuits Assembly; This email address is being protected from spambots. You need JavaScript enabled to view it..