Details

Written by

Nick Koop

Category:

Flexperts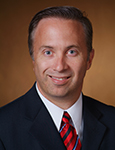 When designing a rigid-flex, start with flex in the middle of a stack-up and move outward.
You're designing a new rigid-flex. Devices are getting fanned out, via structures defined, and layer count is becoming clearer. You have determined how many flex layers you need from rigid section to rigid section. There are competing considerations on how those flex layers are configured: foil and dielectric thickness, bonded or unbonded, and where they will be in the stack-up of layers. All this impacts flexibility and how the part will bend in the installed application.
For today, let's concentrate on where the flex layers land in the stack-up and the effect that can have on manufacturing and end-application use. Several strategies have rational logic and can be successful in select situations.
The most common and lowest impact is to place the flex at the middle of the stack-up. There are several advantages. First, it permits symmetry of the stack-up. Symmetry provides the opportunity for the flattest stack-up with the least tendency for bow and twist. This is more and more critical as component pitches get denser, and the size of BGAs and FPGAs gets larger. This is also the easiest to fabricate with the lowest cycle time, resulting in the lowest cost. If you can put the flex in the middle of the stack-up, this is the best option.
Read more: Where is My Flex?