Details

Written by

Bill Hargin

Category:

Material Matters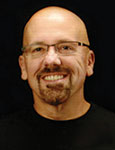 The first of a three-part series on designing around glass-weave skew.
Au: This column is a comprehensive follow-on to our June column. With some overlap, these may be read together or independently.
In June I discussed the differences between 1067 and 106 glass styles, introducing the concept of "glass-weave skew" or the "fiber-weave effect." Here in part one of a series on glass-weave skew, I'll introduce its causes and when or why a hardware designer might care. In part two, we will discuss mitigation techniques and cost, and in part three we'll do a deeper dive on the impact of glass styles on precipitating or mitigating skew.
First, a memory. While writing this, I kept thinking of my first time on the German Autobahn, in the late 1990s. We were coming back from a HyperLynx SI workshop and – as weird as it sounds even 20 years later – my driver was going just under 240kph (~150mph). As the semi-naive American in the car, I thought I should offer some chitchat on the four-hour drive to Munich to keep the driver awake. In an almost robotic tone, my German counterpart said, "I cannot talk at this speed." I don't suppose I'll ever forget that comment.
Read more: How to Avoid Getting Totally Skewed