Details

Written by

Bill Hargin

Category:

Material Matters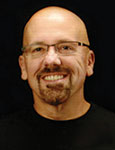 The genesis of a new column, and how the author came to write it.
As I type this, I'm still considering about five column names. I have a lot to say about printed circuit materials, which I find super interesting, and all the candidates have the word "material" in them. Whatever appears at the top is what I ultimately chose. I will actually describe the decision process, because I think it's interesting, but will first highlight the career journey that led me here.
Some 23 years ago, on Oct. 1, 1995, I joined the two HyperLynx founders as director of sales and marketing. I am a mechanical engineer by education. They explained digital signal integrity to me as analogous to the water-hammer effect – most easily described as the pipe-thumping (due to a pressure wave) heard in an old house when the water is turned on or off quickly. ("Ringing.") I was relatively new to PCBs, but had a good background in fluids, having worked a good bit in "active" fluid-based electronic cooling up to that point.
Read more: Laminate Choice, Signal Integrity, and Other Tradeoffs