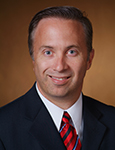 Strategies for vias and routing.
It seems every new design has at least one BGA component on the board. The 1.0mm pitch BGA has become vanilla. Even the 0.8mm pitch BGA is commonplace. These components are not limited to rigid PCBs; BGAs of all shapes and sizes are implemented in flex and rigid-flex designs as well.
The rules for BGAs are much the same whether the board is rigid or rigid-flex. Due to some of the material differences in a rigid-flex, however, extra care is recommended when it comes to the artwork and the trace routing in the BGA field.
Let's start with pad and via design. For microvias, many suppliers recommend staying at or above 0.005" diameter vias for reliability reasons. Much experience tells us vias smaller than 0.005" tend to have a much lower mean time between failure (MTBF) than vias at or greater than 0.005". In more benign applications, smaller vias may be an option. If the product will experience temperature extremes, however, the conservative bet is to stay above 0.005" diameter microvias. Depending on the design and manufacturer, the associated pads may range from 0.010" to 0.012". Smaller pads risk a via sliding off the edge of the pad. If it does, the risk is the laser may cut through the dielectric and down to the next copper layer.
To continue reading, please log in or register using the link in the upper right corner of the page.
---