PRINTED CIRCUIT DESIGN & FAB honors NPI Award winners annually at IPC Apex Expo. Winners receive awards and a publicity photo with editor-in-chief Mike Buetow. The 2020 NPI Award ceremony took place February 4, 2020, at the San Diego Convention Center.
Congratulations to the 2020 winner!
Rogers Corporation: Laminates (TC350 Plus)
2020 Ceremony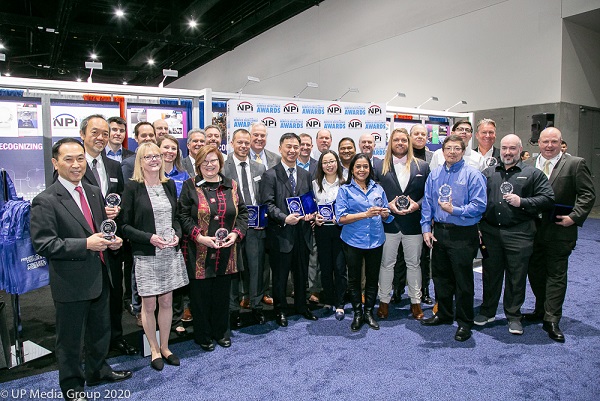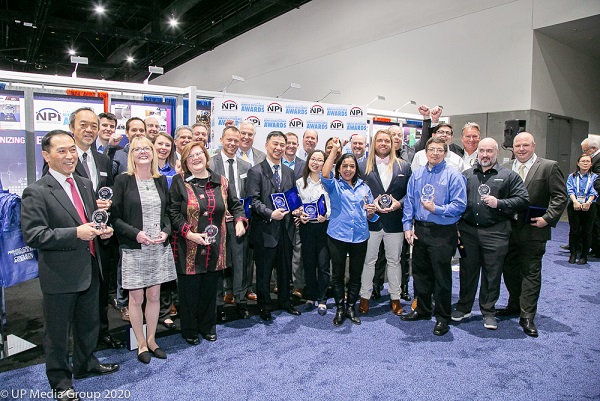 Congratulations to the 2019 winners!
Laminates: Rogers Corp. (Magtrex 555 High Impedance Laminates)
Drilling: ESI (Geode)
2019 Ceremony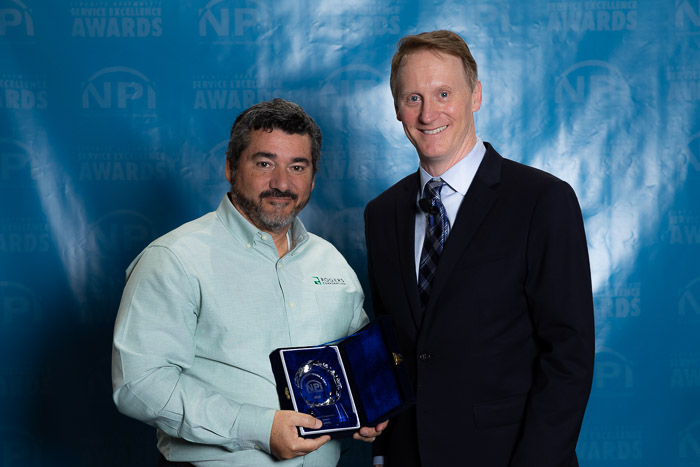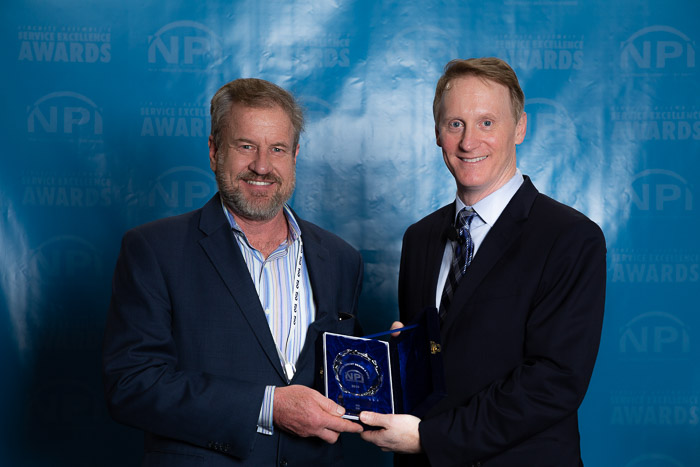 2018 Ceremony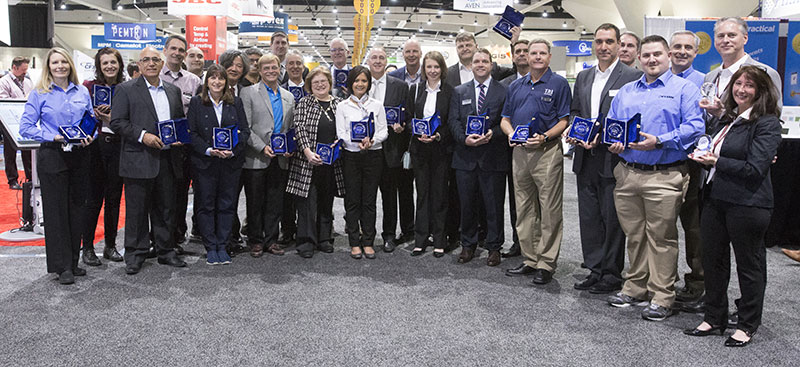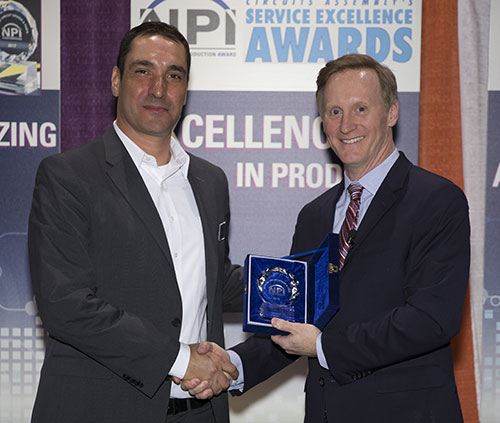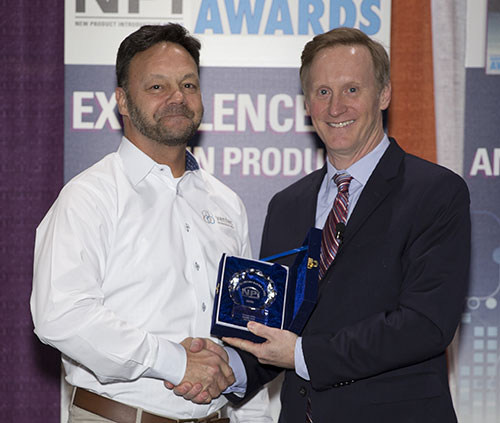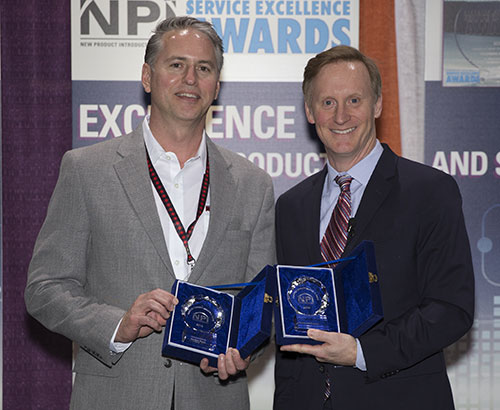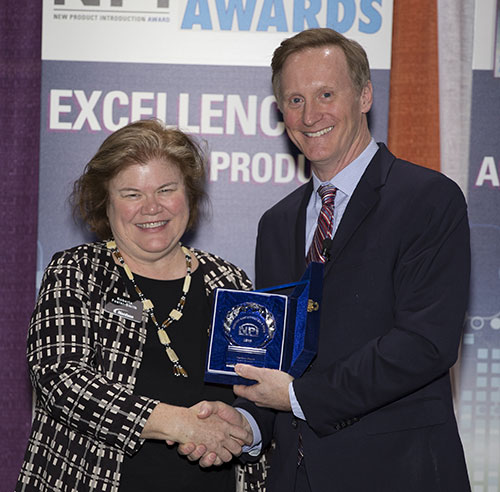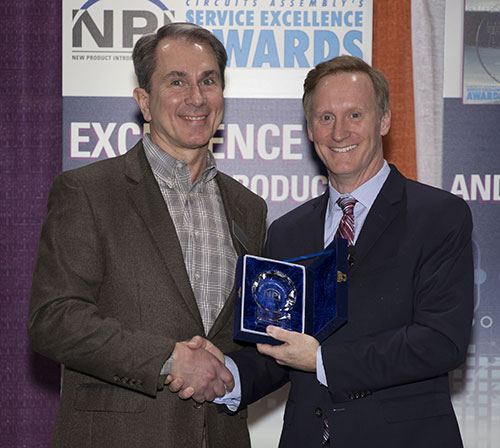 Past Winners
2018
Laminates: Ventec USA (VT-5A2)
Wet Process: Dow Electronic Materials (Microfill SFP Acid Copper)
AOI Test: Orbotech (Ultra Dimension)
Ink Jet: Nano Dimension (DragonFly 2020 Pro 3D Printer)
Specialty Substrate Materials: MacDermid Enthone (Systek THF)
Plating: MacDermid Enthone (MacuSpec VF-TH 200)
Surface Treatment: Nordson March (RollVIA Plasma System)
Factory Automation Software: Mentor, a Siemens Business (Valor NPI, Intelligent DFM)
2017
Rogers Corp. (Laminates)
Dow Chemical (Plating)
Cadence Design Systems (Factory Automation Software)
Orbotech (AOI Test)
Orbotech (Imaging)
Nordson March (Surface Treatment)
Bowman Analytics (X-Ray Verification Tools - Bare Board)
2015
Nordson March (General Cleaning)
The Dow Chemical Co./Dow Electronic Materials (Plating)
2014
Dow Electronic Materials (Plating)
Rogers Corp. (Specialty Substrate Materials)
2013
National Instruments (System Modeling and Simulation Tools)
DownStream Technologies (PCB Design Tools)
Nordson March (Surface Treatment)
Rogers Corp. (Laminates)
Dow Electronic Materials (Plating)
2012
National Instruments (System Modeling and Simulation Tools)
Intercept Technology (PCB Design Tools)
Dow Electronic Materials (Surface Treatment)

2011
DfR Solutions (Design Verification Tools)
Downstream Technologies (Computer-aided Design (CAM) Tools)
Polar Instruments (Documentation Tools)
Altium (PCB Design Tools)
Sigrity (System Modeling and Simulation Tools)
2010
Rogers (Laminates)
WKK Distribution (Imaging)
National Instruments (System Modeling and Simulation Tools)
Sunstone Circuits (PCB Design Tools)
2009
Enthone Inc. (Final Finishes)
Rohm and Haas Electronic Materials (Plating)
Rohm and Haas Electronic Materials (Imaging Materials)RBP Chemical (General Wet Process)Multiline Technology (Registration and Tooling) Control Micro Systems (Marking/Tracking)Sigrity Inc. (System Modeling and Verification Tools)Rogers Corp. (Laminates) DuPont Electronic Technologies (Specialty Laminates)Pluritec North America (Drilling)