FH65 Series flexible printed circuit (FPC) / flat flexible connector (FFC) has a pitch of 0.50mm, height of 1.20mm and depth of 3.57mm.
Reduces occupied mounting area by 47% (on average) with a weight reduction of 62% (on average). Designed for automotive and other high-temperature applications. Temperature resistant from -40 to 125C. Robust lock with a clear tactile click that confirms actuator locking. Does not expose contacts on bottom side of the connector, making board area under connector available for PCB pattern. Solder tabs and terminals firmly retain the actuator, for high-vibration applications. I-shaped solder tabs allow visual inspection and offer retention force of 23N. Comes in 34-position version. Meets halogen-free requirements and is RoHS compliant. Rated current 0.5A, rated voltage 50V AC/DC, and contact resistance is 50 milliohms.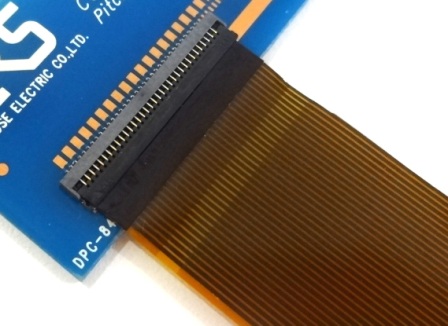 Hirose Electric
hirose.com/product/en/products/FH65/
PCB West the Silicon Valley's largest PCB industry trade show: pcbwest.com!