MILPITAS, CA – Global fab equipment spending for front-end facilities in 2023 is expected to decline 15% year-over-year to $84 billion from a record high of $99.5 billion in 2022 before rebounding 15% YoY to $97 billion in 2024, SEMI announced in its latest quarterly World Fab Forecast report.
Softening chip demand and elevated inventory of consumer and mobile devices will contribute to the 2023 decline.
Next year's fab equipment spending recovery will be partly driven by the end of the semiconductor inventory correction in 2023 and strengthening demand for semiconductors in the high-performance computing (HPC) and memory segments.
"The 2023 decline in equipment investment is proving shallower and the 2024 rebound stronger than expected earlier this year," said Ajit Manocha, SEMI president and CEO. "The trend suggests the semiconductor industry is turning the corner on the downturn and on a path back to robust growth fueled by healthy chip demand."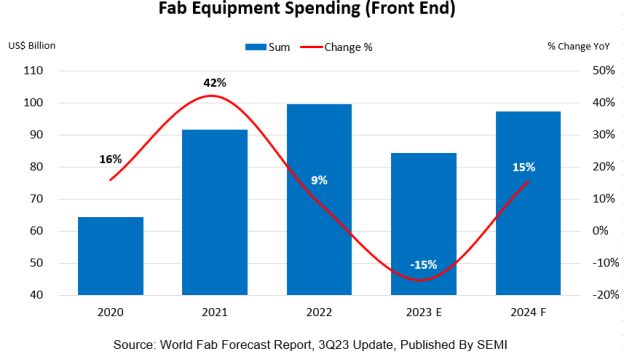 Foundry Segment Continues to Lead Semiconductor Industry Expansion
The foundry segment is expected to lead the semiconductor expansion in 2023 with $49 billion in investments, 1% growth, and $51.5 billion in spending in 2024, a 5% increase as investment continues in leading-edge and mature process nodes. Memory spending is forecast to stage a strong comeback in 2024 with a 65% increase to $27 billion after a 46% decline in 2023. Specifically, DRAM investments are expected to decline 19% YoY to $11 billion in 2023 but recover to $15 billion, a 40% annual jump, in 2024. NAND spending is projected to mirror that trend, decreasing 67% to $6 billion in 2023 but surging 113% to $12.1 billion in 2024. MPU investments are expected to remain flat in 2023 and increase 16% to $9 billion in 2024.
Taiwan Continues to Lead Equipment Spending
Taiwan is expected to retain the global lead in fab equipment spending in 2024 with $23 billion in investments, a 4% YoY increase. Korea is projected to rank second in spending, with an estimated $22 billion in investments in 2024, a 41% jump from this year reflecting a memory sector recovery. With export controls expected to limit China's spending in leading-edge technologies and foreign investment, the region is forecast to place third in equipment spending worldwide in 2024 at $20 billion, a decline from 2023 levels. Despite the constraints, Chinese foundry suppliers and IDMs are expected to continue investments in mature process nodes.
The Americas is expected to remain the fourth largest region in spending, reaching a historic high of $14 billion in investments in 2024, a 23% YoY increase. The Europe and Mideast region is also forecast to log record investments next year, increasing spending by 41.5% to $8 billion. Fab equipment spending in Japan and Southeast Asia is expected to increase to $7 billion and $3 billion, respectively, in 2024.
Covering 2022 to 2024, the SEMI World Fab Forecast report shows the global semiconductor industry increasing capacity by 5% this year after an 8% rise in 2022. Capacity growth is expected to continue in 2024, climbing 6%.
The latest update of the SEMI World Fab Forecast report, published in September, lists 1,477 facilities and lines globally, including 169 facilities and lines with various probabilities expected to start operation in 2023 or later. Download a sample of the SEMI World Fab Forecast report here.