At the annual IPC trade show, everything was headed up. Except, perhaps, the perception.
First appearances can be deceiving. Other than a tremendous rush when the doors opened on the first day of IPC Printed Circuits Expo in late February, the show seemed slow. Most exhibitors and attendees we spoke with felt the same way, although as always there were a few companies that were busy throughout. The crowds peaked by noon on the second day, after which point traffic slowed notably through the finish. Was it the location (San Diego)? Was it the timing (a month earlier than 2014)? Was it just perception, given the larger exhibition floor? Per IPC's data, the exhibitor-to-attendee ratio has jumped from 0.81 in 2010 to 1.25 this year. So while registered attendance was up 5.6%, reversing a two-year slide, the larger show floor coupled with a deluge of booth personnel muted the effect.
The show floor was much more vertical than it's been in the past. Time was, you could see a 12' banner from most spots around the hall. No more. And a few of the booths were so large, they would have fit in well at Productronica.
As we've noted in past years, the annual IPC show is about 95% Apex, 5% Expo. (There is no design to speak of.) Unlike last year, when it seemed every major OEM and their brother had a new platform, this year's event was a tad shy of brand new machines. There was a heavy emphasis, particularly among the placement companies, on software that tracked materials throughout the floor, putting them in competition with the Aegises and Valors of the world. The placement OEMs were also pushing full-line solutions, a departure from the fairly recent past, when the approach in North America was "let the best man win." The trend seems most prevalent at OEMs, and is being spurred by the spate of high-profile mergers and acquisitions, including Juki-Sony, as well as the decision by Fuji, Samsung and Panasonic to push their respective printer lines. Moisture-sensitive device cabinets are becoming more prevalent as well.
But while most of the nearly 450 exhibiting companies were targeting the assembly market, on the fabrication side, there were some new material systems from the top vendors. With that in mind, what follows is a brief summary of what this year's event had to offer.
Alpha is expanding its manufacturing capacity in South Plainfield, NJ, and moving marketing to its Somerset, NJ, office.
ASM, exhibiting with its latest acquisition DEK, showed its new fine-grain stainless stencils, said to get better paste release. They are used primarily for high aspect ratio printing, such as 0.3mm apertures used on handheld products. New Material Manager software offers full traceability Of parts (in reels, trays, etc.) from receiving to end of line. The software resides on a server that talks to line-level machines and can integrate with some competitive machines. ASM also showed a component storage tower, which is becoming more common, a joint venture with Essemtec.
ASYS rolled out its Vego Dynamic AMS 03 speed magazine handler, said to have a cycle time of less than 10 sec. Equipped with three magazines, it can be used it for automatic good/bad sorting.
BTU vice president of sales Jim Griffin says he doesn't expect life at the convention reflow oven maker to change once its sale to Amtech goes through. Amtech makes its living primarily in the solar industry, and BTU can help them move to China, where almost 100% of its ovens are now built.
Industry veterans will remember Ray LaFluer, the new GM for marketing for Den-On, which was showing some smaller-scale dispensers.
ECD president Todd Clifton showed a really slick moisture-sensitive device cabinet. Built from the ground up, SmartDry marks the launch of a new division at the company. It's a well-conceived and executed dry box, with intelligent monitoring systems that maintain humidity levels at 0.5% and offer fast recovery time of fewer than 3 min. It can even bake parts based on MSL level and component size.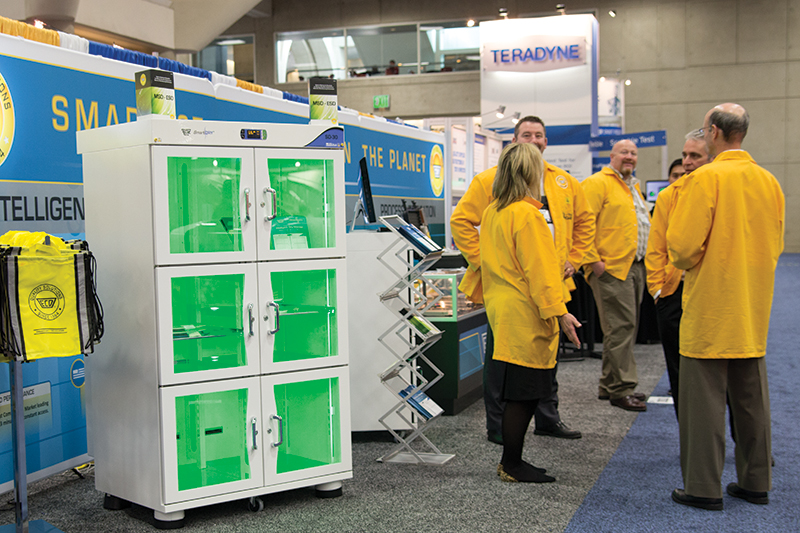 ECD's new SmartDry MSD cabinet reflects a departure from the company's traditional focus on temperature profilers.
Europlacer Americas president John Perrotta says US customers are looking more at full-line solutions. (Europlacer works with Heller for ovens and ProMation for board handlers.) The firm has added a business development manager (Mike Griffin) and engineering manager (Scott Peters). Work continues with Aegis on an offline programming software tool.
We've never seen Henkel so excited. The materials company rolled out Loctite GC 10 solder paste, said to feature an unrefrigerated shelf life of over one year. Four years in development, Henkel took a conventional solder powder and encapsulated the particles, which it says has the additional effect of raising the abandon time to 24 hr. and lowering the startup time to zero. Trials will begin at the Universal Instruments Consortium shortly.
Pat O'Brien, the new vice president of ITW's Electronic Assembly Equipment group, which includes Speedline, Camalot and Vitronics Soltec, said they want to be technology leaders, and aren't looking to engage in price wars. ITW will double-down on its 80:20 philosophy by focusing on key customers, he added. We noted their Accel inline cleaner made a return, versus last year's batch machine. The Camalot Prodigy dispenser will get dual lane and shuttle-in version systems for two-sided dispensing.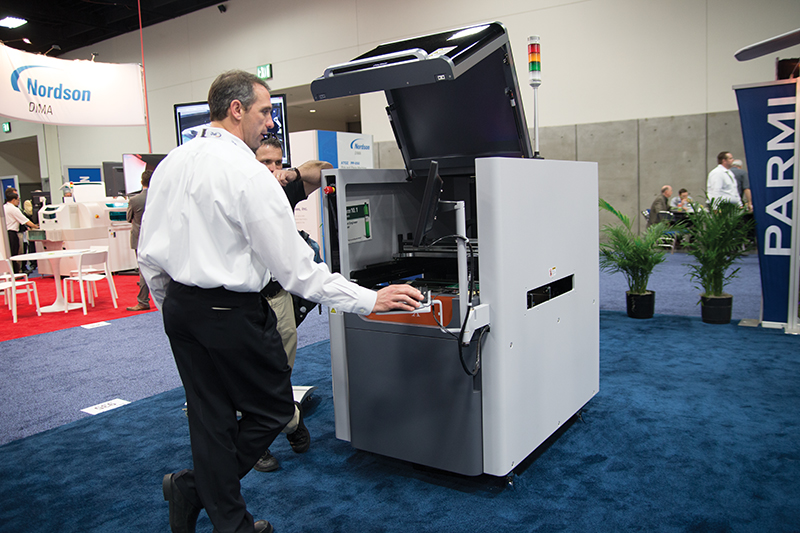 Joe Perault operates Parmi's Sigma X, an SPI with an on-board dispenser head for repairing insufficients.
KIC is pushing its previously released Auto Focus tool, reasoning that because EMS companies aren't given extra boards to profile, they have nothing to run tests on and therefore need the third-party tools. Because it doesn't require thermocouples, it's well-suited to the US market, product manager Marybeth Allen said.
Kyzen vice president Tom Forsythe was very positive about the cleaning side of the industry. (Indeed, all the major cleaning suppliers indicated year-over-year growth that far exceeds the overall industry.) Its new DuoSolvent is non-VOC and boils at room temperature.
McDry (exhibiting with its US distributor Seika Machinery) was another company showing off MSD cabinets. Its newest offering, the DXU-580YF, is designed for holding up to 21 Yamaha YS and ZITA feeders with tape and reel. Its target RH level is 1%.
Microcare CEO Tom Tattersal thinks water is reaching its limit. He said they are working on new molecules that have passed OSHA rules and would help eliminate water for cleaning. This flux removal solvent can be used anywhere in the world, regardless of local regulations, he asserted.
Nordson Asymtek showed mostly modest enhancements to existing dispenser lines, although sister company Nordson March had a post-plasma cleaning line said to save on materials and coating application time, in addition to its FlexVIA-Plus plasma treatment system, which won a PCD&F NPI Award.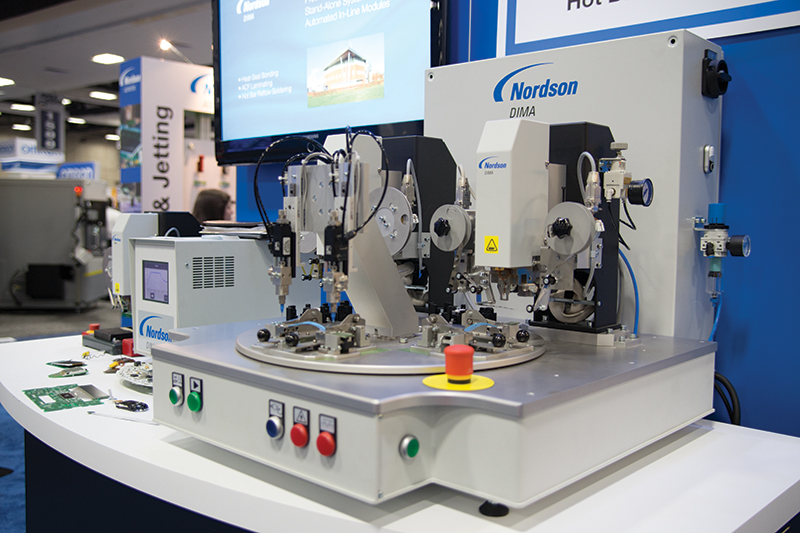 Nordson's latest acquisition, Dima, adds another layer of dispensing to the conglomerate's umbrella.
Panasonic's new product manager, Shawn Robinson, showed its new line software. The company's NPM III dual-lane placement machine has been popular with cellphone makers, now counting seven of the top 10 as customers.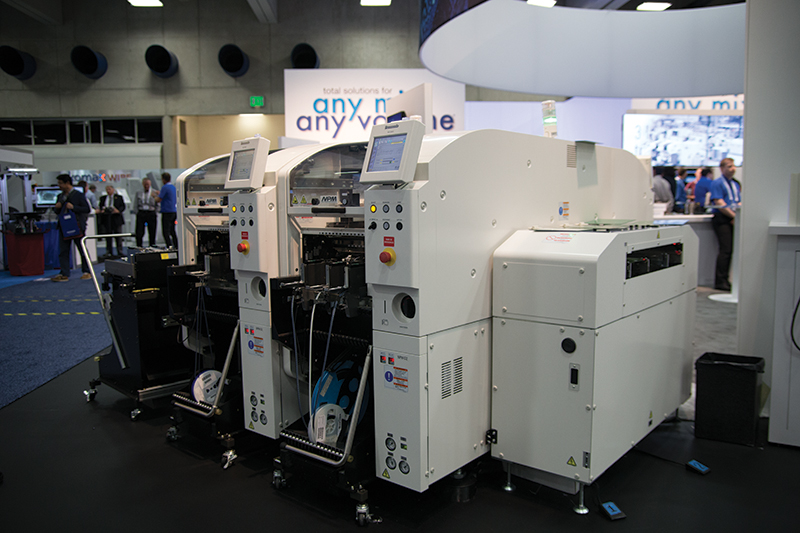 The capability to handle longer boards, as featured here on Panasonic's NPM-D3 placement machine, was a trend seen at this year's show.
Samsung was among those full-line OEMs pushing "smart" technologies, aka software, saying it works best when all the assembly lines are from a single manufacturer.
Speedprint president Mark Brawley mentioned the company's new five-year warranty on parts and two years on labor.
IBM's surprise departure from the column grid array business has been a boon for Topline Components. President Martin Hart discussed a new package using micro coil spring instead of balls, which has passed NASA testing.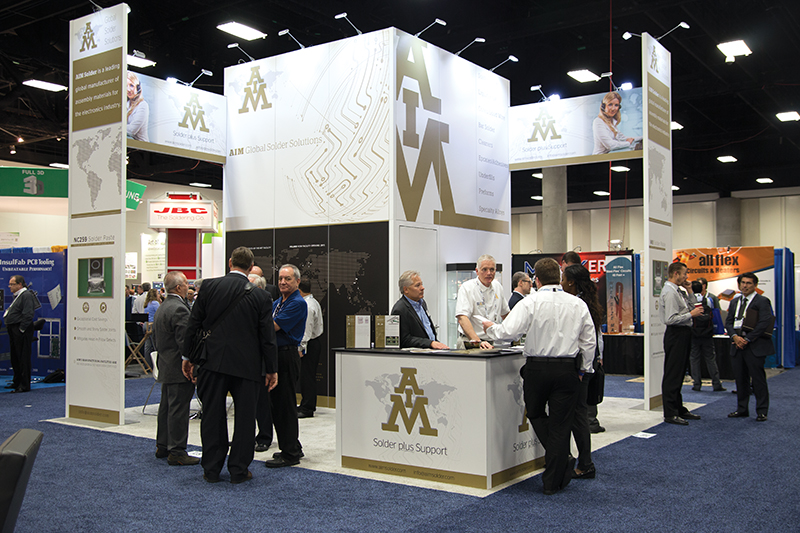 Larger, more vertical booths, like AIM's are becoming the norm.
VJ Electronix general manager Don Naugler showed the NPI Award-winning XQuik II with Accu-Count, a slick new component counter, which has begun to find its way at some major Taiwanese ODMs.
Some of the reps at Yamaha distributor Trans-Tec were really high on the rebranded Hitachi machines, which Yamaha just acquired. Matt Wyglendowski, Hitachi's former US GM, has landed as regional sales manager for Yamaha, one of a couple of direct Yamaha staff in the US.
Zestron surprised by unveiling an equipment line, Zestron ICM, which features the Zestron Eye cleaning concentration monitoring device released in 2013. With a new sales director, Eric Strating, on hand, the firm says it doesn't plan to go further into equipment. A new operation in Japan is already reaping positive results, president Harald Wack added.
(Barely) Bare Boards
As noted, fabrication has become something of an after-thought at Apex Expo, although mainstays such as Uyemura, Chemcut and RBP Chemical were on hand. eSurface continues to make waves with its fine-line conductive material process. Discussions with representatives indicated that trials at its first major installation, Murrietta Circuits, are going very well. LPFK's Stephan Schmidt proudly explained the laser-based 3D prototyping machine, ProtoLaser 3D.
Rogers debuted Ultralam 3850HT liquid crystal-polymer laminates, for single- and multilayer circuit constructions, which have a melt temperature of +330°C.
Isola had on hand Chronon, a low-loss, high-speed laminate and prepreg material series said to mitigate skew issues in high-speed designs with differential pairs.
Park Electrochemical's Meteorwave 3000 and Meteorwave 4000 prepreg and laminates are CAF-resistant and exhibit low dissipation factors at 10GHz.
On the flex side, DuPont showed off Pyralux, a double-sided copper-clad laminate and all-polyimide bonding film system with service temperature of 225°C.
We managed a few minutes' respite from the floor to sit down with iNEMI CEO Bill Bader, who discussed its just-released 2015 Roadmap and a few other projects the consortium is working on for 2015. The new roadmap is 2,000-plus pages, and involved 280 participants in 20 countries. Technologies they are working on include high-density implantables, which have zero tolerance for failure, connector reliability and optimization, and "8 to 10" projects to be announced.
Some of the technologies that weren't being shown but sounded interesting included a printer that prints on a loop with two stencils and two drums (shades of an old Cookson innovation). Also, Terry Munson at Foresite mentioned a multi-year study of cleaning with plasma, adding that his process has gained NASA approval.
While the show didn't necessarily reflect it, most exhibitors expressed confidence that 2015 would be a solid year. Carsten Salewski, president of fast-growing Viscom US, was among those who believe the automotive sector has at least two or three more years of growth left.
High points of the week included the technical conference, which remains outstanding. And there was a touching tribute to Dieter Bergman, the late heart and soul of IPC, who passed away in 2014.
For those who wanted big crowds, Apex Expo was a disappointment. For everyone else, there was plenty to be pleased about.
Mike Buetow is editor in chief of PCD&F/Circuits Assembly; This email address is being protected from spambots. You need JavaScript enabled to view it..