Details

Written by

Bob Willis

Category:

Defect of the Month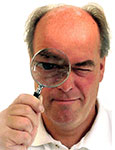 Measuring BGA joints can reveal process problems.
This month we show variation in the size of the solder joints on a section of a BGA. Measuring variation on solder ball size after reflow is useful. Even better is when measurements are taken automatically with an x-ray system, as this provides a good comparison tool between NPI and production builds.
Measuring NPI build, and saving the measurement data, provides a good point of reference when problems are seen on a build. It is also useful when moving between contractors or in the event of changes due to other process modifications.
Read more: What Solder Ball Size Variation Can Tell Us
Details

Written by

Bob Willis

Category:

Defect of the Month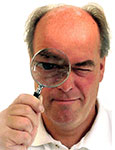 While coatings are typically used on boards, some choose to coat components as well.
This month we show manual conformal coating on one component. One optical example is shown under normal lighting and then under UV light, to show the tracer added in coatings to allow easy manual or automatic inspection. This is not a defect. I asked if this was intended, however, as it was unusual.
Traditionally, coatings are used to protect circuit boards in humid environments and more so in condensing conditions to prevent corrosion. On some occasions design engineers also use coatings to provide that little stability.
Read more: Conformally Coated Chip Caps