Page 4 of 8
1986

Accel enters the business as a distributor of Tango schematic and board layout tools.

OrCAD ships OrCAD/SDT.

Scientific Calculations acquired by Harris Corp.; renamed Harris Scientific Calculations Division.

OrCAD ships OrCAD/SDT.
Applicon releases Bravo3 PCB design and schematic software (developed by Algorex).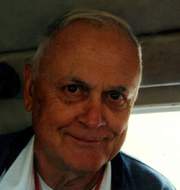 Gene Marsh (above) founds Pads Software.


Mid to Late 1980s
SMT ramps faster than expected. Learning how to design for SMT and high-speed design are major issues for the industry. There are roughly 25 or so CAD/CAM/CAE vendors.
Designs are being created with several methods: hand taping, mini-computers, CAD workstations and PCs. However, the CAD market is reaching a new maturity level and people realize that it is here to stay and will be the method of the future.

1987
Printed Circuit Design publishes first salary survey.

VALID Logic Systems acquires Allegro maker Telesis System Corp.

Calay Systems acquired by AGIV, of, at the time, West Germany.

ECAD Inc. acquires Omnicad Corp.'s PCB line; goes public.

CAE/CAD/CAM industry sales were $9 billion.

Accel introduces internally developed Tango-Route autorouter.

Racal-Redac releases Bloodhound router.
Ian Orrock, Racal-Redac managing director, 1983-87 (above)
1988

Accel introduces Tango Series II.

ACT (Advanced CAM Technologies Inc.) founded as software division of CAD Solutions.

GE Calma bows out of design market.

Cadnetix and HBSystems agree to merge.
ECAD, maker of Dracula, acquires SDA Systems, developer of Framework Colt Ensemble, and forms Cadence Design Systems. Joe Costello (above) named president.
Intergraph forms EDA (electronic design automation) division.

CadSoft introduces EAGLE (Easily Applicable Graphical Layout Editor) EDA schematic capture, PCB layout, autorouter and CAM program.

Daisy Systems launches hostile bid to take over Cadnetix and succeeds; company becomes known as Dazix.

Orbotech and Valor Computerized Systems launch a joint venture called Frontline PCB Solutions to develop CAM software for PCB fabrication.

CADSTAR, NETTLISTER and Visula Plus released by Racal-Redac.

VALID acquires Calma.

Dr. David Tatchell and Harvey Rosten found Flomerics, a developer of computational fluid dynamic software.

1989

Cadam Inc. acquires P-CAD.

Mentor Graphics introduces Hybrid Station.

ACCEL expands into international markets.

VALID acquires ADT, the maker of Analog Workbench Communications Manager.

Cadence acquires Verilog maker, Gateway, and Tangent Systems.

Printed Circuit Design changes its name to Circuit Design.

EPA is founded (now known as EDA Consortium).
John Cooper and David Chyan leave Mentor Graphics; found Cooper & Chyan Technology.
OrCAD sold to Intelligent Systems Corp.

Manny Marcano founds EMA-EDA.

Sean O'Neil founds Design Solutions Inc. (DSI), which later becomes one of the country's largest design service bureaus.

WISE Software Solutions, Inc. founded.