ATLANTA – A sentiment index of component manufacturers has jumped from a low of 75 in the April to nearly 113 in June, showing improved sales expectations across all major component categories.
But the Electronic Components Industry Association warned that recent riots across the US could hamper the final June numbers.
The ECIA, in its latest survey of members across the electronics component supply chain, found renewed optimism in each of the electro-mechanical/connectors, passives and semiconductors sectors. In addition, the overall average outlook for sales by major end-markets recovered back to a "stable" level of 100 in the index.
The strongest end-market sales expectations are focused on medical equipment, telecom networks and avionics/military/space, ECIA found, but even markets facing a more challenging environment are expected to improve in June.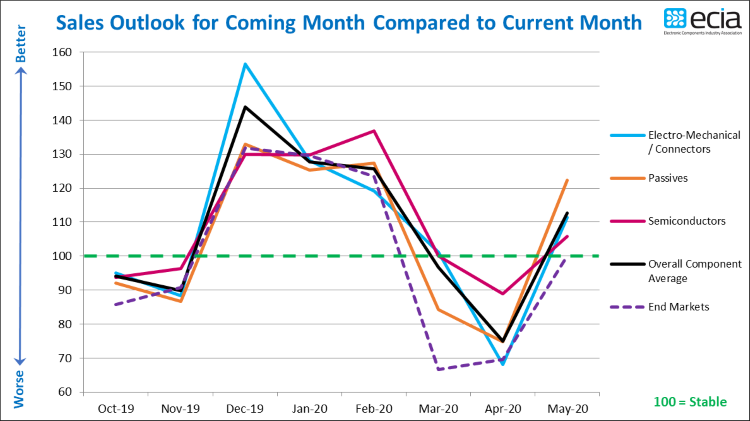 The spread of the Covid-19 pandemic disrupted early year optimism, noted Dale Ford, chief analyst, ECIA. The gradual reopening of the economy has prompted greater optimism for June. albeit from a "very painful month" of May. In addition, Ford cautioned, "This survey was completed before the impact of the recent riots on businesses across the US was felt. Retail sales will likely be harmed in the near term by the current social upheaval and it is too soon to assess how far this damage will spread. At a minimum it will likely delay some of the renewed economic activity we have started to see."
ECIA is made up of the leading electronic component manufacturers, their manufacturer representatives and authorized distributors.
Register now for PCB West, the leading conference and exhibition for the printed circuit board industry! Coming this September to the Santa Clara Convention Center. pcbwest.com