North America's "other" assembly trade show had reason for cheer.
The SMTA International trade show in late October was a good show. A good regional show – Orlando is not the center of the electronics assembly universe, after all – but a good one nonetheless. Traffic on the show floor was strong the first day, and not bad the second morning before slipping off to the usual end-of-show vacancy. (SMTA said attendance was up 20% over last year's show in San Diego.) The technical sessions were very strong; the session on EMS that I chaired drew about 30 attendees, about as high as ever.

Tom Sharpe, vice president of component distributor SMT Corp. (smtcorp.com), gave a scintillating keynote on a trip to China, showing just how systemic counterfeiting operations have become. He notes some 29,000 incidents of counterfeits were reported to the US Department of Commerce between 2005 and 2008. And he warns that the process by which some are marking fake parts now renders the ink impermeable to scratches, which means simple tests for isolating counterfeits may no longer work.

As is typical of regional shows, there was not much new in the way of technology. What did make the trip was worth seeing, though. DEK (dek.com) debuted its ProActiv squeegee, which oscillates during the print stroke in order to pack more paste into the apertures. My old friend Phil Zarrow points out that the concept isn't exactly new – roughly 25 years old, perhaps – but sometimes good ideas take awhile to find their place. Essemtec (essemtec.com) is beta testing its Cobra system, scheduled for released in January. It features 220 inline intelligent feeders that can be changed ("hot swapped") during production and 30 µm accuracy at 3 Sigma.

Aqueous Technologies (aqueoustech.com) debuted its Trident One Shot system, the lowest cost defluxer the company has ever manufactured. It offers fill-and-drain for low-volume applications, and uses a minimal 4 oz. of chemical every cycle. Mirtec, which sold an MV-3L desktop AOI system at the show, introduced its ISIS system with five 10-Mp top-down/side angle cameras.

Those who blanch at the thought of placing 01005s better sit down. Assembléon's (assembleon.com) Greg Berry, global director, medium volume solutions, talked about the next-generation of chip packages: 005005 (or metric 0201). Half the size of an 01005, they should reach production within two years.

There was more than a little handwringing over the prices of tin and other metals, which at press time were skyrocketing. Some materials vendors intimated that China may be holding on to stocks, as it has cut its export quotes by 10% for 2011. On the product side, Cobar (cobar.com) president Stan Renals mentioned three new fluxes are coming, probably by March. FCT Assembly (fctassembly.com) has completed a study on paste shelf life that revealed certain products can last up to nine months and can be exposed to air for up to 24 hr. without degradation. President Tetsuro Nishimura proudly showed photos of Nihon Superior's (nihonsuperior.co.jp) new R&D center in Osaka, Japan.

There were a few notes to share on the qualification side as well. Acculogic (acculogic.com) showed its ThermalScan product that features an IR camera to scan the board, conduct a thermal signature and show hot spots. SolTec Electronics (soltecelectronics.com) is putting decapsulation specialist Don Davis' background in failure analysis to good use through a new non-destructive service to help EMS companies determine whether chips are counterfeit. DivSys (divsys.com), a new company run by former managers of Diversified Systems, discussed its third-party bare board qualification services.

Juki (jas-smt.com) president Bob Black said the leads were much better than last year. Juki is now back to its 2007 sales and production levels, he added. Dynatech's (dynatechsmt.com) Mike Foster, who handles Samsung's placement equipment in the US, added that machine backlogs reached 600 this year. Mirtec's North America unit (mirtecusa.com) had its best October ever, and revenues are up about 70% over last year in Korea.

One last note: As he received the SMTA Founders Award, given to individuals for exceptional contributions to the industry and support of SMTA, Libra Industries (libraind.com) founder Rod Howell made an extraordinary gesture with a $5000 donation to the Charles Hutchins Grant. The grant underwrites the costs of a student doing post-graduate work in the fields of electronics packaging or assembly. And the SMTA has renamed its best paper award in honor of the late Rich Freiberger, a former director of the trade group and one of its most avid supporters. A nice touch.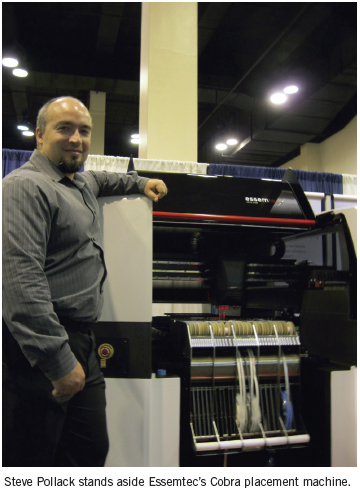 Mike Buetow is editor-in-chief of CIRCUITS ASSEMBLY; This email address is being protected from spambots. You need JavaScript enabled to view it..