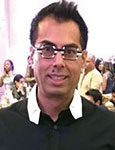 An hour-by-hour look at the quickturn fabrication process.
We were presented with a challenge: Is it possible to build 10 prototype 12-layer boards in 72 hours? It wasn't a rhetorical question; a customer really wanted just such an order. So, with time at a premium, our engineers put their heads together and created a "plan of attack" that optimized all resources. One key to success is performing a number of the steps in sequence as needed, so panels are ready when they are required. We'll describe the procedure hour-by-hour as follows:
Hour 1: The CAM operator runs a DRC (design rule check) process and accepts or rejects the data files. If a problem exists, they contact the buyer to work out a solution; e.g., if two traces are too close, and one needs to be moved. Once the data file is accepted, the next action is to set up the innerlayers.
To continue reading, please log in or register using the link in the upper right corner of the page.
---