Written by Mike Buetow
Wednesday, 12 December 2012 15:51
HONG KONG -- Global production capacity for large-size TFT LCD panels (9" and above) is expected to grow 3.4% in 2013, the lowest growth rate ever for the industry, DigiTimes Research is reporting.
Meanwhile, Taiwan-based OEMs' production capacity for large-size panels is expected to rise 3.2% year-over-year in 2013.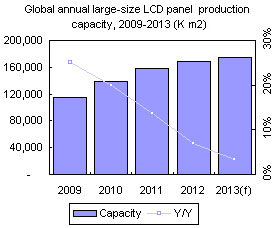 China-based panel makers are expected to bump up their overall global proportion of large-size TFT LCD panel production capacity to 12.4% 2013, which may jump  even higher to 13.7% in 2014 due to an additional 8.5G line BOE has invested in Hefei, China. That plant is expected to start mass production by the first quarter of 2014.

On the demand side, Digitimes Research expects the average size of LCD TV panels to see a significant increase in 2013, with the average size at 38.8", up from 36.6" in 2012. The 2.2" increase in 2013 contrasts the approximate 1" growth seen annually from 2007-2011.

Global large-size TFT LCD panel demand is expected to increase 11.2%, which will cause demand for LCD TV panels in particular to be tight during the hot selling seasons. Also, because PC demand is decreasing, panel makers are taking a conservative stance on their notebook and monitor panel development strategy in 2013 and are focusing more on tablet panel production.

Digitimes Research estimates that in 2013 China-based panel makers will continue to have an upper hand in the 32" LCD TV panel market in China, and they will expand their product offerings by providing new panel sizes such as 28" and 46".