Written by Dr. Hayao Nakahara
Saturday, 01 September 2007 11:24
Ibiden reigned (again) as the top PCB fabricator in 2006.
After nine months of study, the annual NTI list of the world's largest fabricators is compiled. It is becoming increasing difficult each year to make an accurate assessment of these companies because of further globalization of PCB manufacturing. For this reason the author is not completely satisfied with the results.
For example, Japanese and Taiwanese fabricators produce more than $4 billion worth of PCBs each outside of their respective countries. U.S. manufacturers produced more than $2 billion offshore in 2006. In reviewing production figures, it appears that there may be double counting of revenue, particularly among Taiwanese makers. Yet the processes to eliminate double counting are tedious and often fail to achieve the intended goal.
Furthermore, large flexible circuit manufacturers are now heavily engaged in assembly as well. It is impossible to sort the bare board value from their total revenues because the fabricators themselves do not know. Therefore, some of the flex circuit numbers include assembly values.
Ever-changing exchange rates compound the problem. Many fabricators have similar revenues. A slight difference in interpretation of "average" exchange rates may place some manufacturers atop others. The author often receives complaints claiming "such and such manufacturer rank number so and so." In response, we strongly suggest they publish what they believe is correct.
The purpose of the list is not to intimidate the PCB fabricator. The list is a byproduct of this author's attempt to understand and report on the world production values by company. The author has a list of about 250 fabricators ranked, but after about 120 or so, it gets to be hazy. Hence, only a list of PCB fabricators that had a 2006 output of $100 million or more is provided here. The author takes responsibility for any mistakes or errors.
As in the past, any merger is treated as if it happened as of Jan. 1, 2006, even though it may have taken place Dec. 31. Handling all mergers this way is better because we can see the continuation of growth generated by the merged fabricators. The alternative – prorating combined revenues – is very difficult to do.
There may be a few fabricators missing from the list, but, to the best of this author's knowledge, this year's NTI study reveals 95 makers in 2006 had revenues of $100 million or greater. In 2005, there were 93.

Some fabricators from the 2005 list have "disappeared" because of mergers. A few disappeared because revenues dipped below $100 million, not necessarily in local currency but because of the exchange rate phenomenon. Exchange rates of major currencies are seen in Table 1 [PDF format].

Examples of mergers include Tyco's PCB Group, which was acquired by TTM Technologies. Yamanashi MEW merged with Panasonic Electronic Devices (PED). Photocircuits had $160 million in revenues in 2005, but revenue dwindled to $76 million in 2006 and the company was shut down at the end of June. Hong Kong-based Redboard, with facilities in China, had less than $100 million revenue in 2006 due to various problems.

There are a few new entries in 2006. Gultech had good year thanks to its Wuxi plant performance, even after shutting its Singapore plants. It even turned a profit. Daisho-Microline came up quickly thanks to successful microvia board production, mainly for Nokia. (Although it bears the name Daisho, this Japanese maker's share is only about 15% and the company is actually Microline.) The author is not sure whether Hsing Kuo Industry had $100 million in revenue, but the company does have substantial plants in China.

Some makers' sales slipped, but they still managed to make the list, including Casio Micronics and Maruwa Manufacturing, a pair of Japanese flex manufacturers.
The year-over-year growth of the top 95 fabricators was 16.2% (from $29.39 billion to $34.16 billion), topping the composite world growth of 13.1%. The "big get bigger" trend continues.

In 2006, of the approximate $47.5 billion worth of PCBs produced worldwide, Japanese fabricators accounted for $15.3 billion, Taiwanese fabricators about $11.7 billion and U.S. fabricators about $6.7 billion. The fabricators in these three countries were responsible for 71% of the world output (Figure 1). Of the 95 companies reported on, 69 (73%) of fabricators hail from these three countries. This is not a coincidence.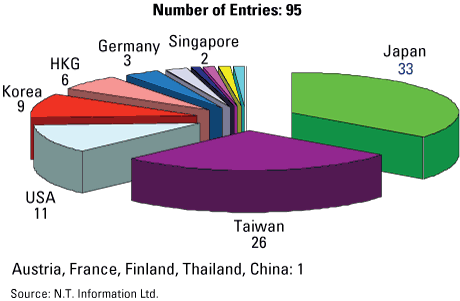 FIGURE 1. Breakdown of PCB fabricators by country.

Bare vs. Assembled PWBs

Since many flex manufacturers are engaged in assembly operations and most rigid board fabricators are not, an apples-to-apples comparison is difficult to make because we are in many cases reporting the flex fabricators' combined output. Yes, some rigid board makers are also engaged in assembly through their parent organizations such as Multek (Flextronics), Sanmina-SCI (Sanmina-SCI) and Foxconn Advanced Technology (Foxconn or Hon Hai), but PCB output is treated separately from the parents' other sales, and the author was able to ascertain the PCB output thanks to the generosity of these fabricators.

There are 22 PCB makers engaged "primarily" in flex manufacturing. Some are also engaged in rigid board manufacture. Of the top 22 flex makers, 10 are Japanese (Figure 2). This is understandable, as about 40% of the total flex output is produced by Japanese manufacturers.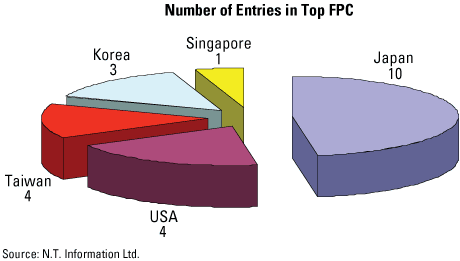 FIGURE 2. Major flex PCB manufacturers by country.

The total world flex output in 2006 is estimated at $7 billion. The flex output of the top 22 makers, after subtracting any rigid PCBs from their figures, is estimated to be about $5.6 billion, or 80% of the world output.
The PCB Fabricators

Table 2 [PDF format] lists the top 95 PCB fabricators worldwide. The following section reviews the top fabricators, covers critical information on the current situation and offers future expectations.

It is remarkable that Ibiden has held the top position for four consecutive years. With last year's investment of approximately $450 million for IC substrate production and the current investment of more than $250 million, it is likely that Ibiden will maintain the No. 1 position in the foreseeable future. Approximately 80% of its PCB revenue comes from IC package substrates. Its pretax profit on its PCB business was over 18%.

This year in April, there was a major management change within Ibiden. Yoshifumi Iwata, who drove the company to the top worldwide position, became chairman and Hiroki Takenaka took over the reigns of the company for the next growth period. It will be interesting to see how he steers Ibiden. As a start, the company hired 200 new college graduates in April. (Ibiden just upgraded its 2007 forecast, which targets $2 billion PCB revenue for fiscal 2007, the very first PCB maker to do so.)

Ibiden has other businesses besides PCBs. One of its fastest-growing businesses is ceramic filters that eliminate carbon particulates from auto and truck exhaust associated with diesel engines. Ibiden has plants to manufacture this filter in Japan, France and Hungary. Its PCB plants are in Japan, the U.S. (Elgin, IL), Beijing and the Philippines with final inspection stations in Shanghai and a few other places in Asia.

Unimicron has grown leaps and bounds by a series of acquisition as well as organic expansion. It has several manufacturing locations in Taiwan and China. Unimicron was second in cell-phone board output in 2006 (180 million pieces) after Compeq, which produced about 190 million pieces. Cellphone boards are produced at the Shan Ying and Lu Chu plants in Taiwan and the Shenzhen and Kunshan plants in China. Uniflex (Kunshan) is a joint venture between Unimicron (51%) and Uniflex of Taiwan (49%). Unimicron manufactures all sorts of PCBs. The recent emphasis is on IC substrates and high layer count multilayer PCBs. Moreover, the firm is investing $500 million in the Suzhou area, where it will build various types of PCBs including IC substrates.

Samsung Electro-Mechanics (SEMCO) has been concentrating in two areas: IC substrates and microvia boards for cellphones including flex-rigid boards. Approximately 60% of its revenue was derived from IC substrates and 40% from microvia boards. It also invested $400 million in the southern part of Korea (Ilsan) for flip-chip package substrates.

Nippon Mektron is the largest flex maker in the world with plants in Japan, Taiwan, China, Thailand, Germany and the Czech Republic. Its growth was slow last year due to price erosion of flex products caused by severe competition that resulted from global overcapacity. Sixty% of its revenue comes from overseas operations. The flex assembly business is growing rapidly with the completion of a plant in Suzhou. Nippon Mektron is building two plants in China, one next to the existing plant in Zhuhai and one in Amoi. The latter is designated as a "finishing" plant for the Taiwan plants.

The company's origin is from a technical transfer from Mektron (Rogers) and it was allowed to use "Mektron" with a "Japan" prefix, but only in Japan. All its overseas subsidiaries are called Mektec.

CMK was known to be the largest maker of single-sided boards (SSB) in the world. Today, however, it has changed its course completely, building mainly multilayer boards. It is still engaged in SSB production in China, Malaysia and Indonesia. However, more than half of its revenue is derived from MLBs. Besides several plants in Japan, it operates at three sites in China; two in Dongguang (single, double-sided and multilayer) and one in Wuxi (microvia), plus a JV in Dongguan with GBM of Taiwan (CMK is a minority owner with 49% of share).

CMK's Singapore single-sided plant was shut down several years ago. Its newest plant is in Thailand, recently inaugurated. Its $100 million investment is the first stage and CMK has decided to expand this Thai plant into the second phase. About 35% of the PCBs CMK makes are for the automotive industry. CMK is probably the largest fabricator of automotive PCBs in the world, at $350 million. The second largest automotive PCB maker is Viasystems Group.

Nanya PCB is concentrating on IC substrates and high-end MLB in Taiwan and all other products are pushed to its China subsidiary in Kusnhan. Today, Nanya PCB derives 70% of its revenue from IC substrates. Half of this comes from flip-chip substrates. Nanya PCB obtained its original flip-chip manufacturing technology from Japan's NTK.

Nanya PCB is a part of Nanya PCB World. Its parent, Nanya Plastic, from which Nanya PCB became independent and has its own stock listed, makes glass yarn, glass cloth, copper foil, laminates, dry film and solder resist among other things. Its model is total integration. Its investment tactics are on at once flamboyant yet cautious, which is obvious from the expansion plan both in Taiwan and China. Its expansion plan does not sacrifice profits. In this author's eyes, Nanya PCB continues to push the football one yard at a time rather than going for the long pass. Its China plant has been strong for Delphi and Sony, but the second plant is now pushing BGA/CSP and higher layer-count MLB with the introduction of pin lamination. When plant 8 is completed, Nanya PCB will supposedly have a monthly flip-chip production capacity of 45 million pieces.

Shinko Electric Industry is strongly affiliated with Fujitsu Ltd., which owns more than 50% of Shinko's share. As its lead frame business continues to decline, its flip-chip and other IC substrate business continues to grow. It is also heavily engaged in assembly of IC substrates and camera modules. It is one of four flip-chip package substrate suppliers to Intel; Ibiden, Shinko, Samsung and Nanya PCB (with NTK). Last year, it expanded its main flip-chip manufacturing plant in Nagano, Japan. Figure 3 shows Shinko's main flip-chip plant at Wakaho, Nagano.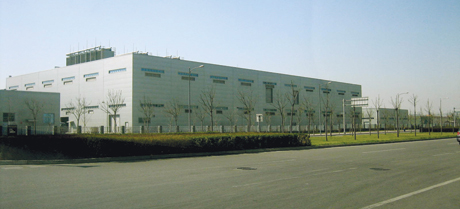 FIGURE 3. The wastewater facility of Ibiden's plant no. 2 in Beijing.

The aforementioned fabricators had revenues greater than $1 billion in 2006. The author would like to call them the NTI-$1 Billion Club. Many others are striving to achieve $1 billion in revenue in the near future. It will be interesting to observe which makers get there.

KB (Kingboard Chemical) PCB Group includes Elec & Eltek, Techwise (and Techwise-Shirai), Jiangmen Glory Faith and three other relatively small makers.

Multek is a subsidiary of Flextronics, the second-largest EMS maker after Foxconn. Multek operates in Brazil, Germany, U.S. and at several locations in Doumen district of Zhuhai. (After purchasing Solectron, "new Flextronics" is neck-to-neck with Foxconn.)

Daeduck Group operates in Korea, the Philippines and Tianjin, China. It is one of the oldest Korean PCB makers and its recent emphasis is on maintaining profitability. However, it is not totally ignoring investment. Two years ago, it built an IC substrate plant, called APERIO, and its IC substrate business is growing. Its products are well balanced from single- and double-sided, MLB, microvia boards, flex, flex-rigid and IC substrates. The Tianjin plant makes single-sided boards.

Tripod is one of the most flamboyant investors in PCB industry. Its expansion in Wuxi, China, is unbelievable. Its plan is to produce about $800 million in China in 2008. When this is accomplished, there is no doubt that Tripod will be a member of NTI-$1 Billion Club.

Fujikura is the second largest flex maker, after Nippon Mektron. It has a plant in Japan (Tohoku Fujikura), a few in Thailand (PCCT) and a flex assembly plant in Shanghai. Its next expansion will be in Vietnam. About 80% of its revenue is derived from its overseas plants. During the JPCA Show this year, it exhibited embedded component flex circuits.

Hitachi Chemical has PCB plants in several locations in Japan, one in Singapore and another in Taiwan. HC's involvement in PCB industry is quite diversified. It makes laminates, dry film (the largest in the world, with production capacity of 350 million square meters per annum), PCBs from single-sided to MLB and production equipment through its subsidiary. Its total PCB-related business amounts to about $2 billion per annum.

AT&S is the largest PCB maker in Europe. It operates in Austria, India, Korea and China. Recently, its main emphasis has been in Shanghai. The second building in Shanghai includes original Phase 2 and Phase 3. Phase 2 started production last August. It is already filled to capacity with work and Phase 3 is being equipped with production machines for expansion.

Wus recently exited from the TAB business. Its China subsidiary in Kunshan has been concentrating on high layer-count MLB in the past several years and is probably the largest high layer-count MLB maker in China at this moment.

LG Electronics sells a good portion of its products to its parent, but outside sales is also growing gradually. It makes microvia boards, IC substrates, flex and MLBs with layer counts up to 40 and with back drilling.

TTM Technologies purchased Tyco Electronics' PCB operations, including the backplane assembly business. Although it shut down the Oregon facility (originally Praegitzer Industries), its 2006 revenue was over $600 million. It has several manufacturing locations throughout the U.S. and a backplane assembly plant in Shanghai.

Young Poon PCB Group has Korea Circuit, Interflex and Young Poon FPC. Interflex and Young Poon FPC encountered severe price erosion in 2005 and 2006 that resulted in declining revenue even though the volume seems to have been sustained. Through Interflex, Young Poon PCB Group has back-end flex operations in Tianjin, China. Korea Circuit launched its IC substrate business last year.

Meiko Electronics is one of the Japanese PCB makers investing "Taiwan style." It has several plants in Japan, two in China and just broke ground in Vietnam, near Hanoi, for PCB and assembly operations. Its total investment in Vietnam will reach more than $300 million in a few years. Its global production capacity of PTH boards will reach 1 million square meters per month in a few years. Meiko also makes hole-counters and screen printing stencils.

Sanmina-SCI made a painful decision to shut its Phoenix plant. Some of the products made at the Phoenix plant will be transferred to Owego, Malaysia and Singapore. Sanmina-SCI is one of the very few PCB makers in the U.S. engaged in basic research and development of new technologies. Its fastest-growing plant is Malaysia, with very high layer-count and large panel capability up to 40 layers.

Viasystems Group has plants only in China. Its emphasis is on automotive boards and high layer-count MLB with large panel sizes. It transferred technologies from the U.S. and Europe to its China plants and it is beginning to see the effect of this technology transfer.

Gold Circuit Electronics operates in Taiwan and at two locations in China, one in Suzhou and the other in nearby Changshu. Its total notebook motherboard output was 17 million in 2006, second only to HannSater Boards, which made 21 million pieces. Between these two, the total notebook motherboard shipments were 38 million pieces, or 49% of the 78 million pieces shipped in 2006. GCE in Taiwan is concentrating on high layer-count MLBs. Eighty-five% of its output in Taiwan comes from MLBs of 10 layers and above.

Panasonic Electronic Devices (PED), formerly Matsushita Electronic Components, absorbed Yamanashi Matsushita Denko when its parent, Panasonic Industry, took Matsushita Denko under its wing. Yamanashi Matsushita Denko is specialized in microvia boards, particularly "filled via" type. PED is known for its ALIVH technology. ALIVH boards are manufactured at two locations in Japan and one location in Taiwan, near Taipei. In fiscal 2007, PED is expanding its ALIVH capacity both in Japan and Taiwan. It shut its single-sided operation in Thailand at the end of June this year.

Although a few licensees did not succeed, CMK is doing well with ALIVH. ALIVH production by PED was about $220 million in 2006, including the Taiwan output. It is increasing its ALIVH capacity by 15% this year in Japan and Taiwan. Over 90% of the prepregs used are glass epoxy type. Only a small portion of aramid prepregs are used.

PPT and Kinsus are engaged in IC substrates and both have grown rapidly in the past few years. HannsStar Board is a champion of notebook motherboards. Merix is finally making gains with the China plants, but is shutting down Hong Kong plant. In a sudden move, 3M shut its Japanese flex subsidiary at the end of March, and is shutting its Eau Claire, WI, facility. (3M is so secretive that the $400 million output listed on the NTI-95 is the author's best guess, based on various inputs.)

Toppan NEC is moving into high-end IC substrates as well as its traditional high layer-count MLBs. Unitech made about 105 million cellphone boards in 2006 in Taiwan and China combined. Since its main customer, Motorola, reportedly had a recent glitch that impacted orders, Unitech and Compeq performed poorly in the last few months, but their businesses are expected to recover in August, according to recent announcements.

Everyone is interested in what Foxconn is trying to do in PCBs. It is very difficult to follow Foxconn because, like 3M, it does not disclose anything about its PCB business. So the author has had to gather bits and pieces of information to come up with $360 million output (bare board only). Foxconn has two rigid and two flex plants in Shenzhen, and has been building a gigantic PCB complex in Yan Tai at the northern edge of Shang Dong Peninsula. Recently, however, something seems to have happened at Yan Tai complex. It was reported that after the completion of Plant 4, construction on the subsequent plants was stopped. It has constructed PCB plants in two or three other locations in China and will probably build a plant or two in Vietnam.

The main body of Foxconn's PCB operation is called Foxconn Advanced Technology (FAT). FPC operations and Yan Tai rigid board plants belong to FAT, but two rigid board plants in Shenzhen seem to be treated separately within the Foxconn organization. Foxconn (its Chinese name is Hon Hai) is currently the world largest EMS maker and its PCB consumption is enormous. It is understandable that the intention of this gigantic project is to supply PCBs internally, but everything about Foxconn PCB is misty.

Meadville Group started modestly as Oriental Printed Circuits (OPC). It still operates the original Hong Kong plant as OPC. Under OPC, Meadville built a JV PCB plant in Dongguan, called Shenyi Electronics. Then, it built Shanghai Meadville Electronics (SME), Shanghai Meadville Technology Silicon Platform (SMTSP), Dongguang Meadville Circuits (DMC) and is now building a microvia board plant of substantial size in Guangzhou (GMC). Today, SME is engaged mainly in microvia board production. OPC, SYE and DMC are mainly involved in high layer-count MLB production. The Meadville Group had a very successful IPO on the Hong Kong Stock Exchange. The Meadville Group also has several laminate manufacturing plants throughout China, with an annual capacity of over 20 million square meters of glass epoxy laminates. It is striving to top the $500 million mark soon, perhaps as early as in 2007.

GBM (Global Brands Manufacture) has three PCB operations: GBM Chuan Yuen (Shenzhen), GBM Yuanmao (Kunshan) and CMK-GBM (Dongguan), a JV with CMK (49%) and GBM (51%). Although owned by GBM, more than 70% of CMK-GBM output goes to Japanese OEMs operating in China. Therefore, there seems to be just a cordial relationship between CMK-GBM and other GBM plants. While rumors had Ruwel AG of Germany in talks of a possible collaboration with GBM Yuanmao, recent information reveals the talk collapsed.

Kyoden Group has several subsidiaries in Japan and one in Thailand (Toei Denshi). It started as a quickturn specialist years ago and through a series of acquisitions went into mass production as well.

Simmtech of Korea used to be called Chungbuk Electronics. As the name suggests, it started to grow as a major manufacturer of single-in-line memory module circuits. Recent growth has been driven by IC substrates.

Chin Poon operates in Taiwan. It dissolved its JV (ACP Electronics) in Suzhou with Aspocomp in March and has been building its own plants in nearby Changshu. Since Chin Poon was a minority shareholder, no part of ACS Electronics output was counted toward its revenue. It has another operation in Thailand called Draco that is engaged mainly in single-sided manufacture. Chin Poon had a 50% share but its share has been diluted since the venture went public in the Thailand Stock Exchange. It is one of the largest manufacturers of single-sided and silver-through-hole boards in the world. It also makes double-sided, MLB and microvia boards.

Mitsubishi Gas Chemical owns Japan Circuit Industry (IC substrate) and Tai Hong Circuit Industry in Taiwan (SSB, DSB, MLB and IC substrates). Tai Hong has a subsidiary in Dongguan, China, manufacturing single-sided boards. MGC is known for its BT-based laminates. Its BT laminate production capacity was recently expanded to one million square meters per month.

DYnamic Electronics (note capital "Y") is one of the large PC motherboard makers. Earlier this year, DYnamic decided to go for microvia technology and since has been collaborating (technology transfer) with DAP of Korea. A part of extension at its Kunshan plant is allotted for microvia production.

Vertex recently announced that it would stop manufacturing PCBs in Taiwan, leaving only its China plants for PCB production. Its Chinese subsidiary, Global Flex, went public on the Hong Kong Stock Exchange. Vertex had an ill-fated SLC project in the mid 1990s.

Broadtek consists of three makers (3COM) and is a subsidiary of First International Computer. The author is not familiar with this company except that he met its VP of sales once in Japan and quoted his sales revenue figure.

Sumitomo Printed Circuit Board is a flex manufacturing subsidiary of Sumitomo Electric Industry ("Denko" in Japanese). It has plants in Japan, the Philippines ("First Sumiden"), Shenzhen and Suzhou, and a new one in Vietnam.

Micro Circuit System is a wholly owned subsidiary of Mitsui Metal & Smelting and is engaged in flex BGA and COF products. Hitachi Cable is similar to Micro Circuit Systems in product scope.

Fujitsu Interconnect Technology in Japan is engaged in high layer-count MLB and high-end IC substrates (flip-chip). Its Vietnam subsidiary is engaged in microvia boards with filled via structure for cellphones and high-end notebook computers. When it comes to complex MLB, the company is one of the most capable makers in the world along with Hitachi PWB Solutions (not in the list), Toppan NEC, Yamamoto Manufacturing, Sanmina-SCI, TTM Technologies, Multek, Viasystems and Merix.

Career Technology is the largest Taiwan based flex maker with plants in Taiwan, Suzhou and Kunshan. ASE, Advanced Semiconductor Engineering, has plants in Taiwan and Shanghai for IC substrates.

Daisho Denshi is the largest flex-rigid board maker in Japan and just started to operate a $120 million state-of-art IC substrate plant north of Tokyo, equipped with many advanced manufacturing equipment including several LDI systems.

NTK has been making ceramic-based chip substrates for many years. Recently, it started to make organic substrates in its new $270 million plant in Japan. It is now expanding the plant. Kyocera SLC was formed by Kyocera after purchasing the PCB operations of IBM Yasu, which triggered microvia technologies with Surface Laminar Circuits (SLC). It invested approximately $170 million in a plant in Ayabe City in Kyoto for flip-chip substrate manufacturing. Kyocera SLC is one of the main suppliers of flip-chip substrates for the Sony Sony PlayStation 3.

Topsearch built a new plant in the town of Shaoguang, about three hours north of Guangzhou, and transferred low layer-count boards there. It also built a plant at Tong Liao, Inner Mongolia. It is concentrating on higher layer-count boards at its original plant in Shekou, located at the western edge of Shenzhen.

M-Flex's total output was $504 million inclusive of flex assembly. M-Flex also manufactures camera modules. It expanded its Suzhou plant in the past year. Sony Chemical is making rigid boards at Neagari Plant in Japan and flex (including assembly) in Suzhou. Shirai Denshi has several plants in Japan and a JV with Techwise, called Techwise-Shirai in Fo Gang, Guangzhou. It has applied for permission to build another plant in China, but the outcome of the application is not yet known. It also makes AOI equipment, mostly for detecting smears on gold plating and solder mask misregistration.

Hutchinson is not exactly a PCB maker. It places conductors on disk drive suspension units that are formed by an etching process that removes the unwanted metal and the resulting drives have flex-like functions. Therefore Hutchinson is listed.

Ya Hsin is in trouble. There has been a rumor that Foxconn may be interested in acquiring the company, although both sides denied it. Its Suzhou PCB plant is gigantic, with a total floor space of almost 2 million square feet. It has a few plants in Dongguan, which make a lot of six-layer controlled impedance boards for Sony PlayStation 2. The new design of the PlayStation 2 board is a four-layer structure.

Ruwel is one of the oldest PCB makers in the world and is now owned by the U.S. investment company, Bear Stearns. Its intended Romanian venture was stopped by Bear Stearns and now Ruwel seems to be looking to collaborate in China. Elna has two plants in Japan and one in Penang, Malaysia. Sumitomo Bakelite has a flex plant in northern part of Japan and one in Hanoi. Eighty% of its revenue is derived from its Vietnam subsidiary.

ISU-Petasys was once Namyang Precision Electronics. It is now one the largest suppliers of high layer-count MLBs to Cisco Systems. KCE is now profitable. Its major field is automotive electronics. It is the largest rigid board maker in Thailand. APCB (Advanced PCB) has a plant in Taiwan and two in China: Shenzhen and Kunshan.

Aspocomp decided to shut down its flagship plant in Salo, Finland. It acquired the remaining 49% share in ACP Electronics from Chin Poon. It has been building a microvia plant in Chennai, India, but it is said that the construction is moving at a snail's pace because of wastewater treatment issues. Aspocomp also owns a plant in Thailand, the former PCB Center.

Sumitomo Metal Electro-Device is a maker of IC substrates. It has plants in Japan and Penang. CCTC (China Circuit Technology Corporation) is the largest "Chinese" PCB maker. Würth Electronics serves niche market with niche products. New management at DDi pushed the maker finally to profitability after traumatic several years. Plotech has a plant in Taiwan and two plants in China.

Eastern is a growing IC substrate maker specialized in very thin CSP package substrates. Shindo Denshi is a maker of COF. Shinko Manufacturing is often mistaken as Shinko Electric Industry by foreigners. Both are located in Nagano Prefecture in Japan, but when spelled in Chinese characters, these two are completely different although the same phonetically. TPT, a medium-sized Taiwanese fabricator, has grown steadily in the past several years.

Kyosha became profitable in 2006 after shutting its money-losing Mexican plant. It operates two factories in Japan, one in China and one in Indonesia. Innovex shut all its U.S. factories and shifted its entire flex production to Thailand. Arrk PCB Group has three plants in Japan (Clover Electronics, Nippon Micron and Satosen) and acquired 30% of Korean maker, Accuris, and 100% of Mutual Tech of Taiwan last year.

Cosmotech recently launched into IC substrate manufacture. It has a single-sided manufacturing subsidiary in Dongguan. Yu Fo has plants in Taiwan and China, which seem to specialize in high frequency PCBs. MFS's majority shareholder is Wearns Industry, which also owns large chunk of M-Flex. Yamamoto Manufacturing has no debt and is doing much better than a few years ago. It has a plant in Dongguan, and is now building a second factory there. It is one of the most capable MLB makers in the world.

Samyang Electro-Mechanics, not to be confused with Samsung Electro-Mechanics, is a flex maker in Korea. Ellington is a Hong Kong-based fabricator built by Lee Lap, the original owner of Kalex PCB (Termbray Group). He built this plant with money obtained by selling two Kalex plants to Viasystems.

FCI is a French FPC and connector maker with plants in France and Singapore. Tong Jiang is a Taiwan maker but has plants only in China. It has one in Huizhou and two in Huiyang, not far from Merix. Ichia makes flex and keypads. Its main flex plant is in Suzhou.

EIT did very well last year in all three sectors of its business, high-end IC substrates, MLBs and assembly. Gultech lost money the past few years, but returned to profitablity in 2006 after closing the Singapore plant and expanding the Wuxi plant.

Sanwa Electronic Circuits is not growing but has a stable volume. Recently, it started to diversify its customer base from Sanyo Electric. Daisho-Microline has grown the past few years after an injection of new technology from its minority partner, Daisho Denshi of Japan, particularly in the area of microvia manufacture. It serves Nokia.

Shye Feng Group is headquartered in Taiwan and has two plants in Thailand and one small plant in China. Hsing Kuo Industry has no particular features. Casio Micronics seems to have had a hiccup last year. Maruwa Manufacturing has four plants in Japan, one in China, one in Malaysia, one in Indonesia and a new one in Vietnam. Each plant is small, as can be seen from its revenue.

Summary

Reviewing the best fabricators with the best performance in 2006, we can generally say that they are mostly IC substrate and microvia board makers, although profitability is much higher for substrate makers. The 2007 picture is not expected to change much.

There will not be too many surprises in 2007. The growth of world's PCB output in the first half of 2007 was a lukewarm 2 to 3%. The growth of the Top 25 fabricators, however, will outpace the world by more than 10%.
Europe continues to go down, with the exception of Germany. The shuttering of several U.S. plants will affect North American output as well. Taiwan's growth in the first half was only 2%. However, the figures from August look good. China has mixed results so far. Some companies have been loaded yet many have scrambled for orders. China will once again record the highest growth this year though.
China's wastewater regulations are getting tighter and in many crowded areas, it is no longer possible to expand unless the PCB fabricators are prepared to spend a fortune to equip the factory with a complete water recycling facility. At To this point, it is estimated that 7 to 8% of the manufacturing cost is spent on wastewater treatment, whereas the labor cost is 4%.
Although Taiwanese makers are still investing in China, they are also looking at countries such as Vietnam and Thailand for their next investments. Korea is sandwiched between Japanese technologies and Chinese pricing. So as the big users of PCBs such as Samsung Electronics and LG Electronics expand operations overseas and purchase PCBs from local suppliers, the Korean PCB industry is facing a transitional and reorganizing phase.
Southeast Asia, particularly Thailand and Vietnam, is growing steadily as an alternative to China. However, most large fabricators in Southeast Asia are foreign, as is the case in China. Singapore, once the regional king, is losing its competitiveness when it comes to PCB manufacture. Malaysia is mixed; some (Sanmina-SCI) are growing, others (CMK) are going down. Several Malaysian makers have plants in China. About 60% of the PCB production in SEA is made by Japanese transplants.
It is unlikely that we will see PCB makers in other regions appearing in the top list, at least in the foreseeable future. For example, there is quite a bit of hype on India. It has a pool of well-educated people, a growing middle class, democracy, English speaking people, etc. These are the points made by advocates for India. But still, the largest fabricator at this point is AT&S India, with revenues of about $40 million+, and the second largest had revenue of just $17 million, according to a source. The total output was $200 million or so in 2006, from 160 to 180 manufacturers.
In comparison, it took just three fabricators to produce the output of Vietnam – $270 million – and the investment in PCB manufacturing is rising steadily. The nation will reach $500 million within a few years and in the not-too-distant future will hit $1 billion.
Japan's growth is small compared to that in China and Taiwan. Since the base is large ($11.2 billion), however, growth of just 5% contributes $550 million to the world output. The strength of Japan's PCB industry is its OEM customers that continue to require advanced technologies, and Japanese PCB makers that cater to this demand with new equipment, materials and advanced PCB technologies.
The top four Japanese makers in NTI $1B Club made $5.1 billion (15% of total $34.1 billion). They account for 11% of the total world output of $47.5 billion. Ibiden alone accounts for 3.8% of the total world output out of estimated 3,000 PCB fabricators. The 32 Japanese fabricators on the list ($12,773M) account for 29% of the total output. They account for 83% of the total Japanese production of $15.3 billion in 2006.
Japanese makers invested about $3.7 billion in new plants and expansion in 2005 and 2006. In 2007, the investment has been subdued, but the Japanese are still investing more than $1 billion in Japan, China and Southeast Asia. These investments are bearing fruit, slowly but steadily. There will be several more contenders from Japan for the top list.
Despite problems, Korea may have additional members in the list. Founder Zhuhai MLB and Shennan Circuits, both Chinese makers, will be in the list soon with their expansions. Hong Kong-based Tat Chung is close.
There will not be many changes in 2007, but this is for certain: The big are still getting bigger. PCD&M
Dr. Hayao Nakahara is president of NT Information and recognized expert on the printed circuit board industry. He can be reached at This e-mail address is being protected from spambots. You need JavaScript enabled to view it .
Last Updated on Monday, 03 September 2007 23:31