SAN FRANCISCO -- Spurred by new construction of semiconductor fabrication plants, spending on fab equipment will set records this year and next, according to the latest World Fab Forecast report.
Regionally, investment is pouring into South Korea, Taiwan and China, while spending in Europe has also jumped.
A record $49 billion will be spent this year on semiconductor equipment, SEMI said. Spending on new fab construction will top $8 billion, the second-largest year on record, the trade group added.
For 2018, SEMI forecasts equipment spending will top $54 billion and new fab construction spending will reach a record $10 billion.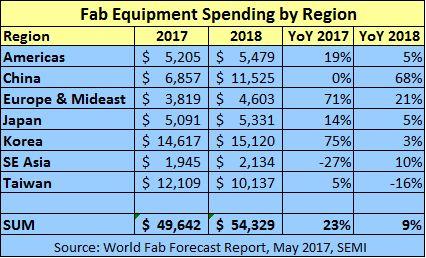 Spurring the investments are a mix of traditional players and new Chinese companies, SEMI said. Fabs are gearing up for new capacity for 3D NAND and DRAM, and 10nm platforms.
South Korea investments will reach $14.6 billion in 2017 and $15.1 billion in 2018. The peninsula will be followed by Taiwan, China and the Americas in 2017. In 2018, China will surpass Taiwan, due to a big jump in new fabs coming online. In China, construction and fab equipment collectively will grow 54% and 60% year-over-year in 2017 and 2018, respectively, rising from $3.5 billion in 2016 to $8.6 billion in 2018.