Written by Mike Buetow
Monday, 17 December 2012 15:16
HONG KONG -- Based on analysis of the major platform companies and the white box market, Digitimes Research forecasts that global tablet shipments (including both branded and white box models) will overtake notebook shipments in 2013, growing by 38.3% over 2012 to 210 million units. Shipments of branded tablets alone are forecast to reach 140 million units.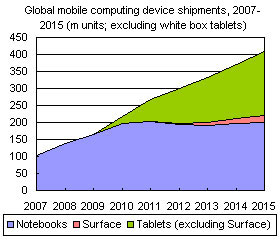 The aggressive pricing of the Nexus 7 and Nexus 10 is likely to give Google strong momentum in 2013. Digitimes Research projects that Google will become the No. two tablet vendor, behind Apple, whose share of branded tablet shipments will decline slightly to 55.6%. Factoring in white box tablets, Apple's share of all tablet shipments will drop below 40%.

The explosion in white box tablet shipments in 2012 means that Android will overtake iOS to become the largest platform in 2012. Combined shipments of all Android tablets -- including branded, white box, Amazon and Barnes & Noble devices -- are projected to hit 121 million units in 2013, representing 40.2% growth on 2012 figures.

Digitimes Research also projects that global shipments of branded and white box tablets will top 300 million by 2015, with branded devices accounting for more than 200 million units and white box tablets for around 100 million.


Features
A Startup for Startups
MassChallenge, a not-for-profit accelerator program, aims to "create a bigger pie" by helping innovators get to market. In a 27,000 sq. ft. office on the 14th floor of a Boston Harbor high rise, scores of innovators in residence toil away, trying to make their dreams reality. Four quadrants of cubicles form the basic layout, abutted by casual open meeting areas, a compact soundproof recording studio, and a galley kitchen. The walls are...
Tweets by @FrancesStewart5