Written by Mike Buetow
Friday, 27 July 2012 13:11
HONG KONG -- Global economic turmoil has seriously impacted growth in the PC market and it will remain sequentially weak leading up to the launch of Windows 8, whose initial benefit will mainly be satisfying delayed demand from the third quarter.
That's according to the latest analysis from DigiTimes, which also forecasts global shipments will reach 207 million in 2012, a growth rate of 2.1% from 2011. About 53% of the year's notebook shipments will come in the second half, the firm said.
Notebooks with special form factors are still waiting for a breakthrough opportunity. For example, the penetration rate of ultrabooks is estimated to account for less than 5% of global notebook shipments in the fourth quarter, while notebooks with touchscreen control as well as models with a special form factor are both expected to account for less than 1%.
Notebooks that adopt a solid state drive (SSD) will account for 7.1% of total shipments in the fourth quarter, but around 70% of those shipments will be contributed by Apple products.
In the second half of the year, among notebook ODMs, only Quanta Computer and Compal Electronics will have a strong chance to achieve further growth. In terms of brand vendors, Lenovo, Asustek Computer, Apple and Samsung will all achieve a strong performance to help them gain market share, while HP and Dell face declines and Acer expected to maintain its ranking.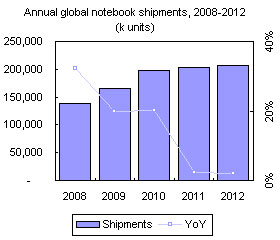 ---