Written by Mike Buetow
Wednesday, 16 January 2013 14:55
SMP Interface System comes in 50Ω and features VSWR of 1.18 max at 40GHz. Male PCB connectors come in vertical surface mount, vertical through-hole, and edge mount configurations. Three levels of detent available, each with different engage and disengage coupling forces. Cable ended SMP female connectors accommodate 0.047, 0.085, and 0.086 diameter semi-rigid or conformable coaxial cable. For subminiature RF coaxial cable-to-board and board-to-board applications.

Bomar Interconnect Products, www.bomarinterconnect.com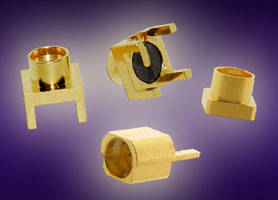 Features
Design for Reliability with Computer Modeling
A new CAD tool imports design files and quantitatively predicts product life. Previous approaches to reliability assurance included "gut feel," empirical predictions such as MIL-HDBK-217 and TR-332, industry specifications, "lessons learned" programs, failure mode effects analysis, and test-in reliability schemes. While these approaches can provide some value, it is felt that the most comprehensive analysis can best be done virtually...
Tweets by @FrancesStewart5