Written by Mike Buetow
Wednesday, 16 January 2013 14:55
SMP Interface System comes in 50Ω and features VSWR of 1.18 max at 40GHz. Male PCB connectors come in vertical surface mount, vertical through-hole, and edge mount configurations. Three levels of detent available, each with different engage and disengage coupling forces. Cable ended SMP female connectors accommodate 0.047, 0.085, and 0.086 diameter semi-rigid or conformable coaxial cable. For subminiature RF coaxial cable-to-board and board-to-board applications.

Bomar Interconnect Products, www.bomarinterconnect.com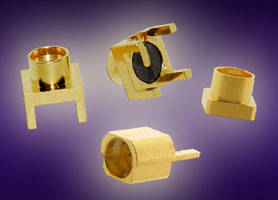 Features
A Startup for Startups
MassChallenge, a not-for-profit accelerator program, aims to "create a bigger pie" by helping innovators get to market. In a 27,000 sq. ft. office on the 14th floor of a Boston Harbor high rise, scores of innovators in residence toil away, trying to make their dreams reality. Four quadrants of cubicles form the basic layout, abutted by casual open meeting areas, a compact soundproof recording studio, and a galley kitchen. The walls are...
Tweets by @FrancesStewart5