Written by Duane Benson
Friday, 03 August 2012 00:14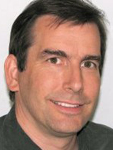 Marking a part clearly takes some forethought.
We don't require fiducials at Screaming Circuits. They are not mandatory here. That's because we live in a prototype world where "variable" is the norm. We'll find a way to figure out what's right and what's left. That said, there are things we can do and things we would prefer to do. Personally, I would prefer to get some ice cream, but my belt suggests otherwise.

So we do "like" fiducials, which begs the question: How do we like them? Well, the objective of a fiducial is to make machine registration of your PCB easy. That means the pattern should not be reversible. It should have only one correct orientation. Use three of them separated as far apart from each other on the board as possible. But don't put them any closer than 4.75mm from the edge. Ideally, it would be a 1mm copper area centered in a 3mm circle with no solder mask. Oh, and all fiducials on the board should look the same and be the same size.

Let's put aside for the moment the bare board fiducial ambiguity and consider the component. More precisely, silkscreen markings for parts on the PCB.

Polarized components have a lot of opportunity for ambiguity. There are many ways to mark parts, but fewer ways to clearly mark them. Take a typical electrolytic capacitor. It can be through-hole, SMT metal can, tantalum, or a few other form factors. Capacitor manufacturers aren't doing any of us any favors insofar as "markation" is concerned.

Check out Figure 1. Yikes! In all cases shown here, I've oriented positive on the left, which, according to IPC is pin 1. This is also the zero degree rotation for the centroid value. But, isn't it nice of those component manufacturers to put the identification bar on the positive side for tantalum capacitors and on the negative side for metal can electrolytics? Not!


So, how should you mark this in the silkscreen on your PCB? For an electrolytic capacitor, the best approach is to mark the positive side with a plus (+) sign. If you mark pin 1 with the number 1, it can easily be mistaken for the minus sign. If you mark the negative side with a minus sign, it can easily be mistaken for pin 1.
For a metal can capacitor, it is also acceptable to put the notched outline in silkscreen. We still recommend that you place the plus (+) sign on there too. We will be pleased with the lack of ambiguity, as will anyone who builds boards for you.

Ed.: Read Duane's blog each week at circuitsassembly.com/blog.
Duane Benson is marketing manager at Screaming Circuits (screamingcircuits.com); This e-mail address is being protected from spambots. You need JavaScript enabled to view it . His column appears bimonthly.
Last Updated on Friday, 03 August 2012 18:45